Men's Skin Care: Recommendation from Hair to Makeup
An overview of men's skin care products and routine care
Guys... its time to take skin care seriously. Even though men's skin is usually tougher and less sensitive, (WebMD), it still needs to be taken care of on a daily basis. Whether you sport a beard or go smooth, there is always a product for you.
Men's Skin Care Tips
The skin is the largest organ on the body and lets' face it, it doesn't get the necessary treatment and protection it deserves, especially from guys. Guys like to keep things simple and easy, and unfortunately, men fail to add a skincare routine thinking it might be a long and tedious process. Well, it doesn't have to be.
The first thing everybody needs to do, especially men, is to identify what kind of skin you have:
1. Sensitive Skin
If you are constantly dealing with irritation and redness after washing your face you probably have sensitive skin. Look for a product packed with ingredients such as aloe and vitamin E to help soothe your skin and balance your skin's pH level.
2. Normal Skin
Consider yourself lucky... most of the products suit your skin type. However, it doesn't mean you should dump all kinds of products on your face either.
3. Dry Skin
You can tell you have dry skin if your skin is flaky, tight, and itchy. Find a product that not only is a good hydrating moisturizer but one that can also take care of the grime and dirt on your face without depleting the skin of its natural oils.
4. Oily Skin
For a man's skin to maintain a proper ph balance, our skin produces oils. In some cases, a man's skin will produce more oil than necessary causing visible pores and a slightly oily and greasy sheen even after washing. For this case look for a product that has oil control without drying out your skin.
5. Combination Skin
Pretty much means that you have the best of both worlds, oily and dry skin in certain areas. Try to use a product that will clean and moisturize your skin without depleting it of necessary minerals. There are plenty of products in the market targeted for combination skin. However, some beauty gurus recommended using two different skin care while managing combination skin. One that can be used on the oily regions, and the other on the less oily area. Opt for that if you have more time on your hands!
Determining what kind of skin you have will make it easier to choose the best product to use. There may be a period of trial and error. Remember when trying a new product, use a test spot, that way you can avoid setting your whole face up. Also, take into consideration the time of the year. The winter months tend to make your skin drier while summer months, more oily and grimy.
7 Awesome Men's Skin Care Tips
Here are some tips recommended by dermatologists:
1. Know your products
Take into consideration product labels and ingredients: Once you determine your skin type this will make things so much easier. If your skin is susceptible to acne look for products that say "oil-free" or non-comedogenic since these products will not clog your pores. If your skin is more sensitive look for mild or fragrance-free cleansers. Cleansers that have fragrances can leave the skin feeling dry and irritated. Be cautious with products that say unscented. Sometimes they contain a masked scent that will leave your skin irritated.
2. Always clean your face daily
Wash Your Skin Daily, once in the morning and before you sleep, also especially after exercising: Try to use a mild cleanser and use lukewarm water. The temperature of the water plays a part, the higher temperatures open up the pores and makes it susceptible to dirt and grime. Cooler water keeps you refresh but it doesn't close the pores which are a common misconception. Lukewarm water is the ideal temperature here.
3. Watch How You Shave and Use your Pre and Aftershave Products
Shaving is hard on your face. Razor burns and in-grown hairs are painful and can be a real problem. Multi-blade razors sometimes get too close of a shave resulting in these issues. Try using a single or double blade razor and at all possible don't stretch the skin taut next time you shave. Wet your skin and hair to soften, and use a shaving cream that has a moisturizer in it. Make sure to shave in the direction of hair growth and rinse after each swipe of the razor. Change your blades often. Try to change them after five to seven shaves.
4. Moisturize Daily
Moisturizer help keep your skin looking younger and brighter by trapping water in your skin. It's best to apply to your face and body while your skin is damp.
5. Wear Sunscreen when outside
Apply protection to your skin, preferably a sunscreen that has a broad spectrum, water-resistant and contains an SPF of 30 or more. Apply it to any exposed skin, including your ears, neck, scalp, and lips. It at all possible make sure to reapply every two hours, and immediately after the skin gets wet ( swimming, sweating etc.). Try to wear a hat as well. If you're under a hot sun all the time, you might want to use a spray on sunscreen for your crop.
6. Exfoliate
Exfoliating is the process of removing dead skin cells from your face. It is a great way to invigorate your skin and it will leave your skin feeling clean and smooth. You want to make sure that you use the right product for your skin type. If you have sensitive skin, it is best to try a small spot in case of a reaction. It is best not to use an exfoliator more than once or twice a week because it can strip the skin of necessary minerals and oils. (Everyday Health). If you have any questions please talk to your dermatologist.
7. Check your skin
Be on the lookout for any signs the deadliest form of skin cancer, melanoma. Make an appointment with your dermatologists if you see any spots or moles that either have changed color, itch or bleed.
6 Best Men's Skin Care Products and Brands
Top Facial Cleanser
1. Jack Black Pure Clean Daily Facial Moisturizer
Jack Black's facial cleaner is a two-in-one cleaner that gets deep into your pores to leave your face feeling fresh and clean. It is dermatological tested and will leave your skin feeling clean, fresh and hydrated without over-drying your skin. Witch hazel is a powerful ingredient that acts as an astringent and antioxidant. Also contains oat and coconut derived ingredients.
Best Face Wash
2. Brickell Men's Products: Purifying Charcoal Wash
Put down that bar of soap and use Brickell Men's Purifying Charcoal Wash, it's just that, a strong facial wash that will leave your skin feeling clean smooth and revitalized. This wash is perfect for men with dry skin. This wash is packed full of moisturizing extracts and minerals while the charcoal softly gives your pores a deep clean. Contains natural and certified organic ingredients, including olive oil, jojoba oil, aloe vera, and activated charcoal.
Best Anti Aging Cream
3. Rugged & Dapper Age and Damage Defense Facial Moisturizer
Let us tackle those wrinkles guys. Rugged & Dapper helps fight off dryness, and any signs of aging. Made up of both natural and organic ingredients including Botanical Hyaluronic Acid, Aloe Vera, Jojoba, and Shea. Rugged & Dapper is excellent for all skin types, it is fragrance-free, and is absorbed quickly by the skin. Can also be used as an aftershave.
Best Lotion
4. Lubriderm Men's 3 in 1 Lotion
Lubriderm Men's 3-1 Lotion helps moisturize and soothe the look of skin in just one step. This lotion is formulated for men and can be used all over the body. This lotion absorbs in minutes but will keep your skin moisturized and soft for hours. Has an aloe-enriched formula that contains minerals and essential moisturizers for healthy skin. Great for all skin types, lightweight, non-greasy, and has a light fragrance.
Best Eye Balm
5. Clarins Men Anti-Fatigue Eye Serum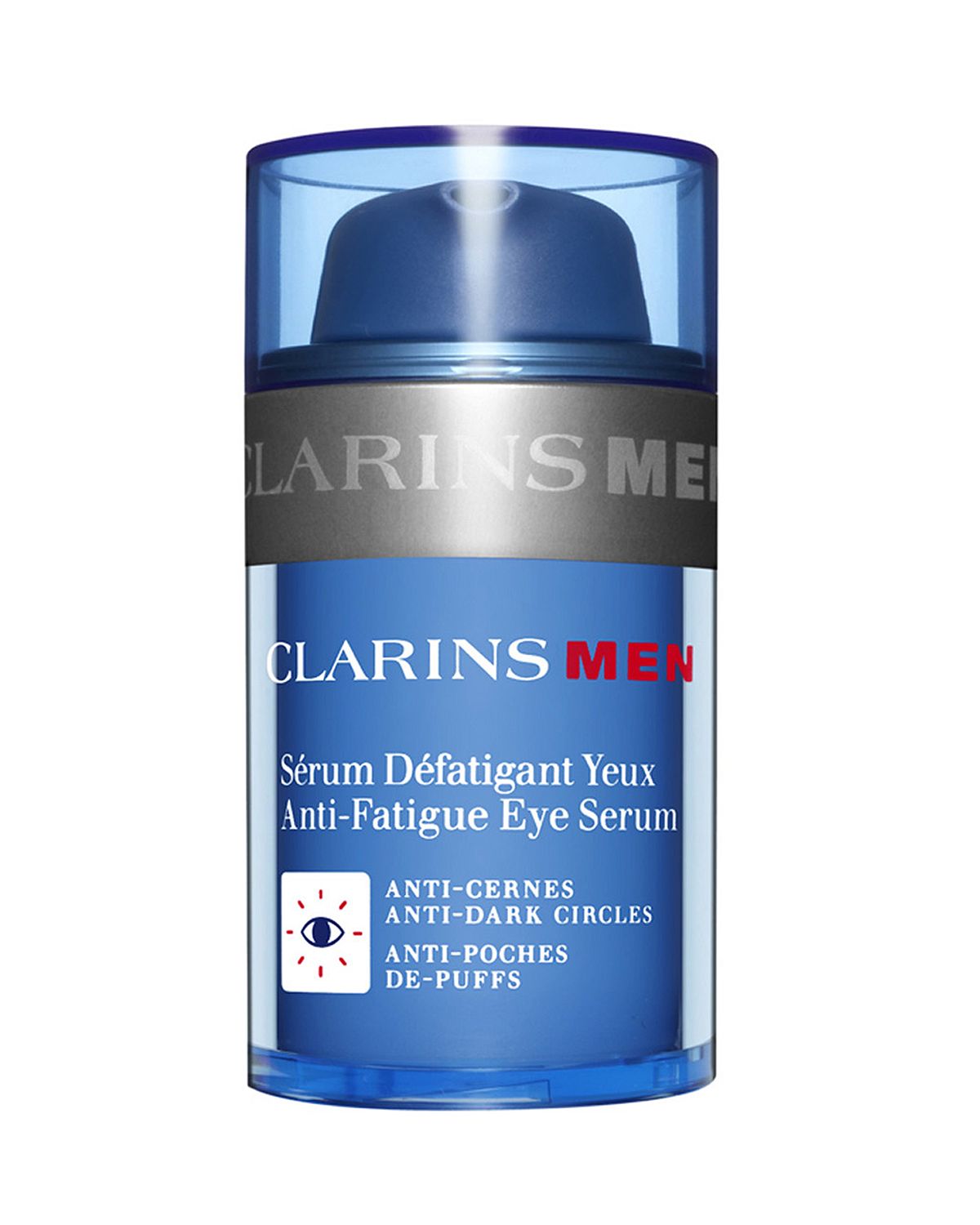 They say that the eyes are the windows to the soul. What do yours say? Whatever the answer may be, go pick up the Clarins Men Anti-Fatigue Eye Serum to work on those wrinkles, puffy bags, and dark circles around the eyes. It features Clarin's patented formula of bison grass, galangal, and purslane which work in combination to hydrate and soothe the skin.
Best Lip Protection
6. Baxter of California Hydro Lip Salve
Once the temperature drops or anytime you need to head outdoors, make sure to pack Baxter of California Hydro Salve Lip Balm. This lip balm offers the best protection from not only the sun but from windburn and extreme temperatures as well. It contains the best skin conditioners and antioxidants that help treat dry, chapped, and irritated lips.
Men's Skin Care Routine and Tips
Worried about adding a few more steps to your already busy routine? Don't worry, you are already probably doing some of them now, you might just need to reevaluate the products that you are using and how often you use them. Believe me, it is well worth the effort and time to help condition and nurture your skin. Remember it is the only one you got. Here is a fairly simple routine that you can add to your skincare routine:
Morning:
Clean your face using a product that works for your skin type
Pat down with your toner
Apply Eye Cream and Face Moisturizer
Lock it all down with a Sunscreen and Lip Balm
Afternoon:
Re-apply: Sunscreen and Lip Balm if needed (repeat morning steps if you visited a gym, all those perspiration have to be washed off before you continue with the rest of the day)
Night:
Wash off any grime on your face with a suitable cleanser as you end the night
Exfoliate (at least once a week)
Use Toner, apply Eye Cream and Anti-Aging Cream
Optional: For best results, try using a hydration sleep mask every 3-5 days and you'll be surprised how much this helps your skin feels better and gives you a much-needed boost to as you go about your skincare routine. And the best thing is, you just need to sleep with it.
Conclusion
All in all, your skin is one the most important organs, but it is also the most neglected. Your skin does so much for you as far as protecting your organs, and cooling down your body, just to name a few. Take a few minutes out of your day and give your skin the necessary attention and treatment it deserves.