10 best drugstore loose powder that won't break your pockets
Complete that overall makeup look with these top 10 loose powder
What are loose powder?

source: Amazon
Loose Powders are silkier in texture than other powders, their aim is to achieve add an even, blended and perfect finish to makeup. While pressed powders are compact, loose powders are usually packaged in jars. Loose powder works best as setting powder and often has mineral composition. They are lightweight and buildable, some provide sun protection while others are vegan and natural with 100% organic formula. Available in a wide variety of shades, with multiple features and benefits, loose powders are fit for everyone, it doesn't matter if you have oily, dry, or sensitive skin, there's always an amazing option out there to suit your needs. That's why we have gathered ten of the most loved and highly acclaimed affordable drugstore loose powders in this article for you.
How To Apply Loose Powder
The best tool to use when putting on loose powder is a powder brush. Dip the brush into the powder jar and tap gently shake off the product so you don't take out any excess. Start applying from the center of your face, the T- zone and move outward to the rest of your face.

Loose powder is finely milled so it has a lighter consistency than pressed powder, blend all in until there are no patches or lines from your face right up to the hairline. It will be buffed into the skin easily and provide an airbrush finish. Avoid wasting your product by taking small amounts from the jar as it spills easily or putting a bit on the lid of the container and working from there.


2019 Best drugstore loose powder
When it comes to makeup and cosmetics, drugstore products are the best alternative to high-end and expensive brand name products. You can trust the quality of drugstore makeup and they are usually budget-friendly and accessible to everyone. Loose powders are no exception, here are some of the best products in the market when looking at loose powders.
For Dry Skin
The ideal powder choice for dry skin adds a little bit of shimmer and glow without absorbing water from the skin.
1. NYX Professional Makeup HD Finishing Powder
The NYX HD Finishing Powder is a drugstore favorite, available in 15 shades. It is translucent, lightweight with an airy finish. When brushed directly over your makeup, it gives your skin a filter-like glow. It blurs imperfections and gives an even and flawless finish look. Given it is translucent it could be added to any color of makeup and it will fit just fine.
2.  E.L.F. High Definition Loose Face Powder
A long-lasting coverage powder with a smooth finish, ELF HD loose powder hides imperfections, blemishes, wrinkles, fine lines and gives a radiant and glowing complexion. It works magic on dry skin by providing a little shimmer that lasts throughout the day. This powder is translucent and cruelty-free as well as vegan. With this over your makeup, you are guaranteed an HD power look like no other.
For Oily Skin
This king of skin requires powder that does not come off easily as oily skin tends to be slippery. Loose powder for oily skin has to be able to absorb oil, tone down the shine and be long-lasting.
3. Maybelline Fit Me! Loose Finishing Powder
This setting powder is great for daily use, it is light and provides a perfect finish to your makeup. It smoothens without disturbing the foundation underneath and stays in place all day. Maybelline Fit Me! is the best choice for oily skin or hot summer months as it is matte enough to stop the shine and long-lasting. It comes in eight different shades so you're likely to find your ideal tone.
4.  Coty Airspun Loose Face Powder
The Coty Airspun Loose Face Powder is the boss of loose powders, it has been out there since 1935 and women have found satisfaction in it for generations. And the packaging has not changed since then, how awesome is that?

Blended with air it is as light as velvet and has an airy feeling on the skin. Translucent in shade, it fits many skin tones and provides full coverage even for oily skin. It is dermatologically tested and long lasting after all it has been tried and tested since 1935.
5. Maybelline Master Fix Setting and Perfecting Powder
The Maybelline Master Fix Setting and Perfecting Powder is finely-milled and super soft, translucent with a 100% perfect blend it is good for under the eye as it won't cake. It smooths, blurs and mattifies creating a soft effect that sets makeup and leaves the skin looking flawless. This powder is universal and suitable for all skin types.
For Sensitive Skin
As for sensitive skin, the powder should be mild, natural, chemical-free, it should be minimalistic and have little or no fragrance that can irritate the skin.
6. Revolution Luxury Baking Banana Powder
A super lightweight drugstore powder, this Baking Banana Powder is revolutionary, though it is very light it mattifies perfectly and its setting job is amazing. Its natural properties make it one of the best options for sensitive skin, it's so light it will hardly irritate the skin and it works with the natural heat of the body to create an overall impressive finish.
7. Cover Girl Professional Loose Powder
A fun fact about this powder is that Meghan Markle's makeup artist Lydia Sellers says this is Meghan's favorite powder and the secret behind her flawless look. The CoverGirl's Professional Loose Powder is silky and lightweight with a texture you can build on. It provides a natural and fresh look and leaves room for control on your application. A great alternative to high-end loose powders and it comes in several colors.
8. NYX Mineral Finishing Powder
This powder delivers full coverage and a flawless finish, the skin looks fresh, natural and radiant all day. A very minimalistic formula that is very gentle on the skin and good for sensitive skin, with just a hint of color that makes it wearable even on bare skin without any foundation.
For Dark Skin
Dark skin and deeper skin tones require powder that will highlight the already existing color without contrasting it. Lightweight and translucent powders as well as colors that blend 100% into the skin.
9. Black Opal Velvet Finishing Powder
Ideal for darker skin tones, Black Opal Velvet finishing powder has a fine texture and is so smooth that it eases its way over any foundation. This finishing powder could also be used to highlight and contour, it will stay put over your face and makeup all day. Black Opal velvet is a real gem and it comes in various shades of dark brown.
10. Ben Nye Luxury Banana Powder
Perfect for deeper skin tones, this loose powder has been a stage secret for a long time. The theatrical makeup scene has sworn by it for a long time. The Ben Nye Luxury Banana Powder mattifies and blends every shine instantly without losing its perfect finish look.
Summary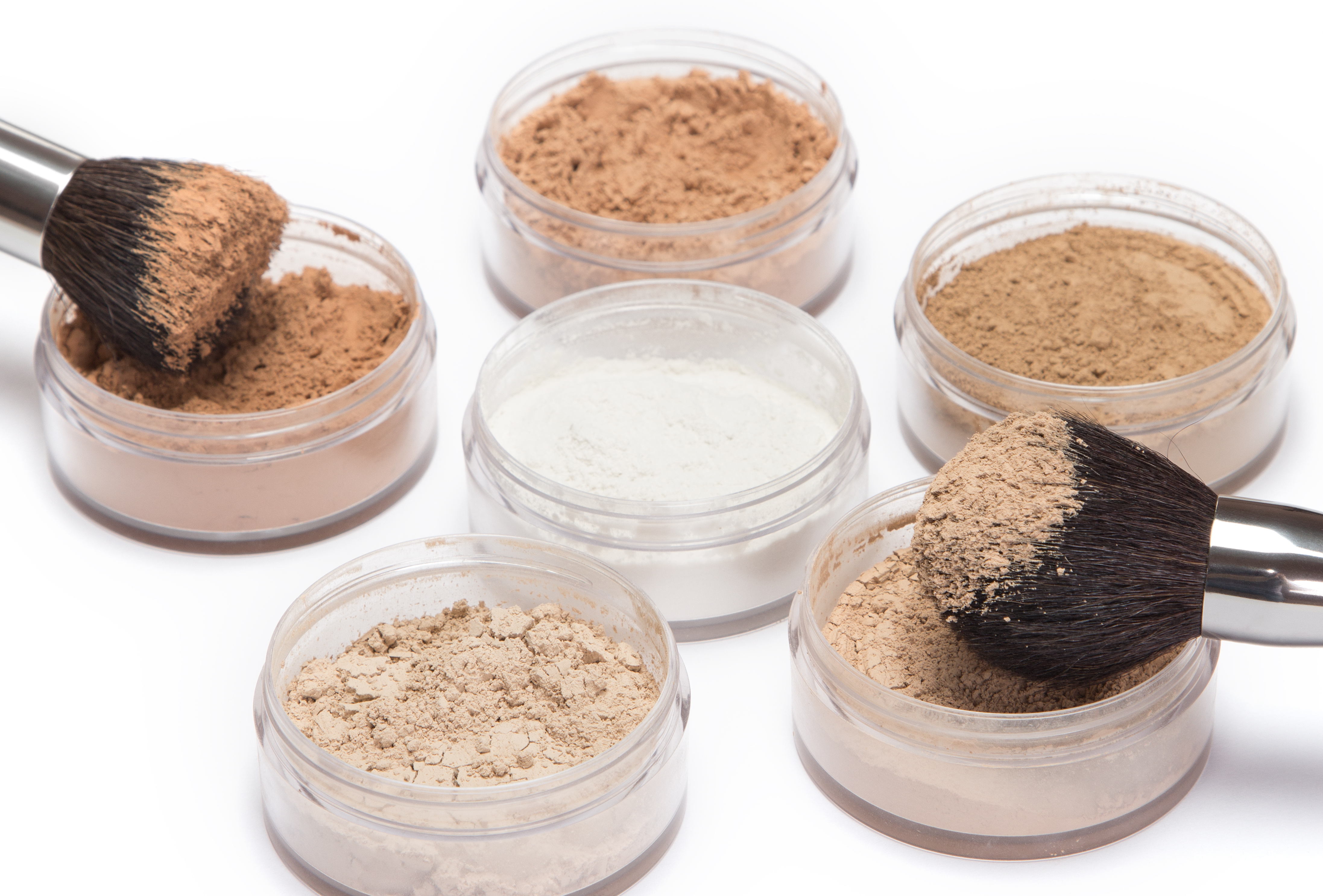 Depending on your skin type and preferences, choosing a loose powder is not as overwhelming as it seems, given there are many translucent options that will do just fine on any skin. It all boils down to the features you're looking for, do you need SPF? vegan and cruelty- free, mineral components, additional color, non-clogging, fragrance-free or hypoallergenic properties in your loose powder?. Whatever the case, drugstore powders are the best alternative to high-end powders that are super expensive but at the end of the day provide the same results as their drugstore counterparts. Hopefully, this will help you make the best choice when picking your loose powder.