Introducing Clove Essential Oil Into Your Own Lifestyle
Emcompassing Clove essential oil in your day to day routine
What is Clove essential oil?
Clove essential oil is gotten from Eugenia Carophyllata a natural herb that contains components known to cure diverse health issues. This herbal oil has been in existence since the 7th century after it was discovered by the Indian and Chinese for medicinal purposes, the achievement of this oil contributed to its widespread through the western hemisphere.

Clove oil major component is eugenol which is the secret behind its fragrance and smell. It also contains antiseptic properties, antimicrobial abilities, and other highly sophisticated health nutrients. This is why Clove essential oil is used to boost heart health, cure hypertension, boost the immune system and serve as a powerful antibacterial.

It has been revealed that the island of Zanzibar is the world largest Clove producing area.
How to use Clove essential oil?
Clove oil is usually used depending on the specific health concern. The manner in which you use Clove oil contributes to the how well you get the best results regarding the health issue.

Prolonged usage of Clove Oil is not advisable unless your physician tells you otherwise. It is also advisable to be under the care of a doctor when administering this treatment, especially with children.

Clove oil can be administered on the inside or outside of the body depending on the body area that you need to deal with. In specifics, you can make use of the methods addressed in details below:
1. Inhaling
Respiratory issues such as a cough, sore throat, clogged throat, catarrh, clearing the nasal passage, cold, would require that you inhale the smell of the oil. This style of usage requires you to open the Clove oil bottle close to your nose and inhale for about 10 seconds continuously three times. Another method requires you to pour a tablespoon of Clove oil in a bowl of hot water and inhale the steam. This can be done at intervals to ensure maximum results.
2. On Skin
This is the most widely used method of administering the Clove oil. Gently pour a drop or two drops of Clove oil on your palm and rub on your body particularly on the affected area. It would be best to rub in your skin after a bath so that the oil has unrestricted access into the skin pores and perform its work effectively.
Essentially, patients suffering from body rashes, facial wrinkles, dryness, fungi infection uses this method by massaging the oil to your skin and affected area.
3. As a Seasoning Spice
Clove oil is also known to be a spice. This makes it eligible to be used as a food seasoning or food flavoring. Most especially among the Indians, it is one of their commonly used spices for side dishes, spice cakes, pickles and soup. Mixing Clove oil with your food is also a good way of using it.
Ensure to put just a teaspoon or more as spice into your food depending on the quantity of food you are preparing, as this oil is very potent.
4. In Your Drink
Health research discloses that you can add half a teaspoon of Clove oil to a warm cup if water and drink it early in the morning before a meal. This would help boost the metabolism of your body and enable it to cure the ailment affecting your body.
5. As a Bug Spray
As Clove oil contains properties that can serve as insects and bug repellent, it can be sprayed in corners, around the wardrobe, dark places and rooms to help prevent insect and bugs.
Note that, the above described method that requires internal usage must be done within the duration of two weeks.
Benefits and Uses of Clove essential oil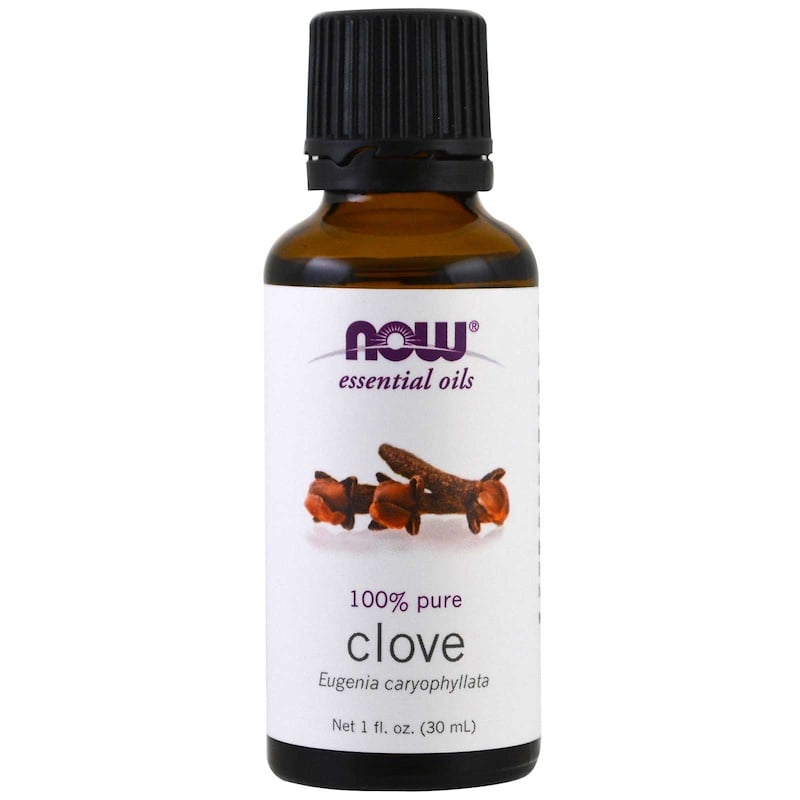 Going through memory lane to the history of Clove oil, you will realize that it has since been tagged as miracle oil due to its benefits which cannot be underestimated. Clove oil is one of the most beneficial oil that can be used for treating a majority of issues. Some benefits are discussed below:
1. Oral Health
Clove oil is the solution to any toothache problem, bad breath, nasal congestion, bleeding gum and gum ache. After applying the oil to the affected area, it takes away the pain and improves your oral heath totally.
2. Hair Growth
African women are known to have long black hair. They disclosed that Clove oil is one of their applied recipes for hair growth. Sometimes, this oil is mixed with jojoba oil to prevent hair loss and to ensure hair growth.
3. Ease Stress
This oil is beneficial for relieving stress and mental exhaustion.
4. Skin Blemishes
Most especially for that experiencing skin dryness, aging, acne and spots. Applying a little amount as a moisturizer on the affected areas can improve your skin and clear all blemishes.
5. Insomnia
This is for those having trouble sleeping at night, Clove oil can help you achieve sound sleep with ease.
6. Massage Oil
Professional masseuses make use of this oil as a massage oil. Clove oil is rich in nutrients that help relax the skin, prevent aging and improve body appearance.
7. Antiseptic
It would interest you to know that Clove oil contains an antiseptic content that makes it a good ingredient for making soaps, disinfectant and perfumes. It is highly recommended.
8. Insect repellant
Due to its potent smell and herbal properties, it can be used traditionally as a means of keeping insect and bugs away from your home.
9. Blood Sugar Level Check
Clove oil helps to regulate the sugar level content in the body. This is because it contains phenol concentration that makes it useful for diabetes patients as it helps regulate their body.
10. Pain Reliever
Clove oil is a very good antidote to relieve headaches and body pain just by massaging your body with it.
11. Herpes
It is very good for treating patients suffering from herpes.
12. Anti-bacteria Properties
Clove oil contains a phenolic compound that kills yeast, fungi, and bacteria that are harmful to the body.
13. Perfumes and Deodorant
Clove oil has a unique smell which makes them a special recipe for some perfumes and deodorant.
14. Asthmas
Clove oil has proven to be very useful for asthmatic patients. It helps improve their breathing and clear airways, making them less likely to experience an asthma attack.
15. Love Potion
Clove oil is allegedly used by the Persians as a potent love potion. This is still in use till date.
16. Liver Protection
Clove oil is effective in curing indigestion, ulcer problems and maintaining the liver. It also enhances the gastric mucus production that aid ulcer formation.
17. Blood Purification
It purifies the blood cells and platelets, stimulates antioxidant activities and decreases toxins in the body.
18. Overall Wellbeing
Clove oil is very good for the general wellbeing of the body. It aids digestion, improves body circulation and physical appearance.
Recipes on what Clove essential oil blends well with
Clove oil can be a perfect blend with several other natural oils. Some of these oil blends include almond oil, olive oil, coconut oil, jojoba oil, lavender oil, grapefruit oil, rosemary oil, basil oil, cinnamon oil, ginger oil and lemon oil.

For example, mixing jojoba oil and Clove oil in equal quantity can be used to help prevent hair breakage and improve hair growth. This does not in any way reduce the effect of the Clove oil, the other oil serves as a supplement to enhance the function of the Clove oil and reduce any possibility of irritation.

Clove oil also blends with coconut oil as a carrier oil. Coconut oil helps reduce the strong smell of Clove oil and prevent it from giving a harsh sensation when applied on the skin. It is safe to mix coconut oil alongside Clove oil when administering it to a need.
Interestingly, facial specialist recommends mixing honey with Clove oil which is very good for treating acne and pimples without leaving spots on your face. It is safe to say Clove oil is not harmful when used alongside other healthy oils.

Furthermore, Clove oil mixed with cinnamon oil serve as a potent snake repellent.

In addition, while administering this essential oil for a toothache, some individuals find the smell to be uncomfortable and difficult to withstand. So it is advisable for you to mix a teaspoon of Clove oil with a teaspoon of lemon oil that way it would make it comfortable for you to administer.
Notwithstanding the several oil blends with Clove oil, ensure that the carrier oil your blending Clove oil to is natural oil and does not react to your skin type. Obviously, some oil works better for a particular skin type than others so kindly take note, and always check with your doctor if you have existing conditions prior using.