10 toddler wetsuit to keep baby warm while swimming
The best selection of toddler wetsuits for girls and boys
Why should you keep toddler in wetsuits for warmth
When taking your baby or toddler to the pool, you should bear in mind that they do not have the ability to regulate their body temperature and so they could easily get cold. In order to ensure your baby enjoys the experience and not develop a dislike and fear of swimming it's best to opt for swimwear that will keep your baby warm in and out of the water. Wetsuits aimed at keeping your baby warm are usually made of 2 mm thick soft neoprene fabric that stretches and insulates against the cold while protecting them from the sun over several hours.

Moreover, some wetsuits are not just to provide warmth and protection from sun rays, in addition, they help your baby learn how to swim and gain experience as well as get comfortable in the water. Wetsuits with buoyancy systems and floats are an essential part of your baby's growth process, the floats are adjustable and can be removed one by one until your baby does not need them anymore. Wetsuits come in many different designs and have lots of interesting features, choosing one will have to be according to your child's specific needs or preference, let's take a closer look at some of our best picks with the best reviews from parents.
Toddler wetsuits - tops only
With toddlers, sometimes all you need is to protect their upper body because that is where they get cold easily, so these are the best wetsuit tops that are available out there for your child's comfort and style.
1. Tuga Girls Long Sleeve Rash Guards UPF 50+ Sun Protection Swim Shirt
This Tuga wetsuit top for girls is an awesome choice, it does not only provide extra warmth it also protects your kid from the sun. It has some great features like an SPF 50+ sun protection, its lightweight, chemical free, comfortable, quick to dry, stylish and does not fade. The Tuga has long sleeves and a high neck that offers good protection and minimizes the amount of sunscreen your child needs. It's ideal for 1-14 years old. Most parents who have bought and used it on their kids, rave about it.
2. Tuga Boys UPF 50+ Sun Protection Shirt
For the boys, this model is just perfect, like the girl versions it's packed with great features. It is chemical free and provides all the protection your little one needs. It comes in lots of colors and designs, so your child has a huge variety to choose from. The fabric is soft, good quality and fits well. The company has a lot of good reviews for this model on their website.
3. Kanu Surf Boys' Platinum Rashguard
Kanu surf presents our newest rashguards yet. Kanu, a surf & swim lifestyle brand, is well known for its quality products and this is not an exception. This suit is a quick dry, it has a reduced water absorption rate, the fabric is soft and is created for minimum irritation, it has cool colors and a UPF 50+ for sun protection of up to 98%. It comes in various sizes even for adults so it can be available for dads and kids to twin as they step out to have some water fun.
Toddler wetsuits with floatation
A swimsuit with floatation system is the best way for babies and toddlers to learn how to swim. Most of the floats are adjustable so that when your child becomes confident and comfortable swimming on his own you can remove them gradually. It also provides security, so you don't have to fear for their safety in the water. Here are our top choices for wetsuits with floatation.
4.SKY-ST Baby Kids Floatation Suit Float One-Piece Swimwear Buoyancy for Girls Boys
Made of 80% nylon and 20% spandex, this wetsuit is ideal for toddlers that are still learning to swim. It has a UPF 50+ sun protection and adjustable buoyancy.This one piece swimsuit is made of quality EVA material that does not absorb water and provides safety. It has a bright and colorful design and when the floats are removed it becomes an ordinary suit. So your kid can atually grow with it.

5. Swimfree Girls Pink/Green Floating Swimsuit
This wetsuit is as small as it gets, it's made of neoprene and designed to fit well and keep your child warm. Ideal for swim lessons, it has a back zipper that makes it easy to wear and get out of. The neoprene fabric allows your child to move freely and build up confidence in the water. The SPF50/UPF50+ is the highest level of sun protection and it keeps your child protected from the sun. This kids floatation suit has a special EPE foam that moves with your kid's body shape.
6. HOUZI Float Suit Toddler Kids Baby Boys/ Girls One Piece Swimsuit Buoyancy Sun Protection UPF 50+

source: Amazon
This one-piece flotation swimsuit with removable foam bars and enhanced buoyancy help children learn how to swim. The fabric is non-toxic, highly resilient and has sun protection, it's flexible and gives your child the freedom to move and co-ordinate in a non-restrictive way.
7. Splash About Kids UV Sun Protection Float Suit
The Splash About suit has an adjustable buoyancy system of 16 removable floats, that promotes the correct learn to swim position, it is chlorine resistant, provides UPF 50+ sun protection and the fabric is wind and sand proof. The floats can be removed gradually until the child becomes confident and independent in the water. It fully covers the neck, back, chest, shoulders, and thighs for maximum protection. It is available in many different colors for boys and girls and comes with an instruction manual as an added bonus.
Wetsuits for skinny toddlers
Wetsuits come in all shape and sizes for different body types so that no kid is left out of the splashing fun of a day out on the beach or in the pool. If your toddler is on the skinny side, don't worry we have you covered.
8. Boy's 2-7 1.5mm Syncro Short Sleeve Back Zip Springsuit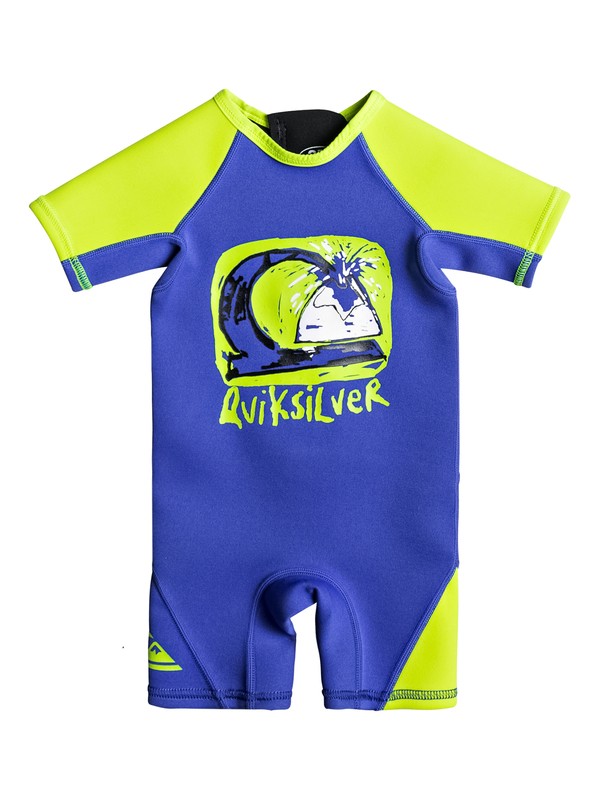 Made from neoprene, this suit is flexible, soft, and durable with a back zip entry system that allows minimal water entry into the wetsuit. This suit does not only provide protection from the sun or offer rash guard it also keeps them warm. It is available in many different kid sizes and the fabric stretches so it can fit everyone and your child an grow with it.
9. Boy's 8-16 4/3mm Syncro Series Back Zip GBS Wetsuit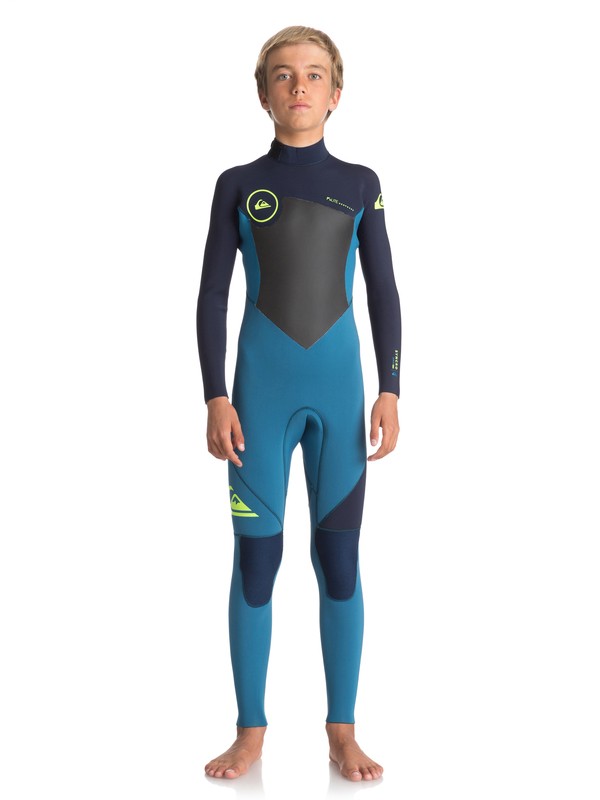 source: quiksilver.com

This suit has a thermal technology that will keep your little one warm at all times. Known as the WarmFlight® x1 Far-Infrared thermal lining it transforms body heat into infrared energy to generate and maintain warmth. The suit is lightweight and flexible and has supratax knee pads, a durable and flexible rubber material for knee pads. In addition, there's a plastic zip at the back for easy entry.
10. Cressi Kids Swimsuit
Made from 1.5/2 mm thick neoprene at the front and back, it offers excellent protection from the cold and the sun. With Lycra on the sides, sleeves and collar this suit is stretchable and fitting to a skinny child. It also gives your child flexibility and freedom of movement. It has a zip at the front that helps to take it off especially when it's wet and does not irritate the skin.
Summary
Planning on buying an awesome wetsuit for your child could sometimes be a tough decision, especially as there are so many different versions out there with lots of cool features, but in making your choice remember that your child will be wearing one of these for a long time. Most children grow with their suits and are going to use it for a few years. With that in mind do not pick one according to design or trends but compare the pros and cons as well as the overall features.