8 Recommended Baby Teething Gel to relieve itchy gums
Popular Baby teething gel used by most parents in the millenial
What are baby teething gels?
Teething is a term used to describe the situation in which a baby begins to grow teeth and, in this case, "baby teeth," as it is usually called. The new teeth usually sprout from under the gums and always have a sequential pattern of disposition.

In babies, teething usually starts when they are about six months old. Although this is not a standard, and it varies with babies. In some cases, it begins as early as 3 to 4 months or up to 11-12 months of age.
Undoubtedly, this growth process is very painful, uncomfortable and can cause a lot of anguish and inconveniences for both the mother and the child.

However, there are some ways to avoid and ensure that your baby does not suffer much pain by opting for substances that can decrease pain and make the teething process friendly for your baby.

One of these methods is with special gels to relieve your baby's pain. Later we will present you the best that exist in the market.
Symptoms and signs of teething
In order to effectively checkmate and ensure a smooth and painless teething process, it's pertinent to know some signs and symptoms of teething which may include the following:

Redness and swelling of gums
Severe drools
Redness of face and cheeks
Restlessness at night time
Reduction in the quantity of food intake
Presence of fever and diarrhea
Related Article: Baby Teething Symptoms that shows Baby's first tooth
Coping with these baby teething symptoms as a new parent
8 Best Natural and Organic Baby Teething Gel in 2018
This article is focused on the best baby teething gels and without much ado, here are the top 8 gels that you can opt for, for bringing a long-lasting peace to your baby during the process of teething.
1. BabyGanics, Teething Gel Pods, 10 Single-Use Pods, 0.01 fl oz
This baby teething gel is very suitable in solving the problems of pain during teething. BabyGanics comes in pods and each pod is for single use. It contains only natural ingredients of only clove oil, stevia and coconut oil. While clove oil may smell strong, it is known as an effective natural remedy for tooth issues.

Some of its advantages are:
The absence of benzocaine.
Organic compositions.
Sweet to the taste.
Safe to swallow.
2. Weleda Tooth Gel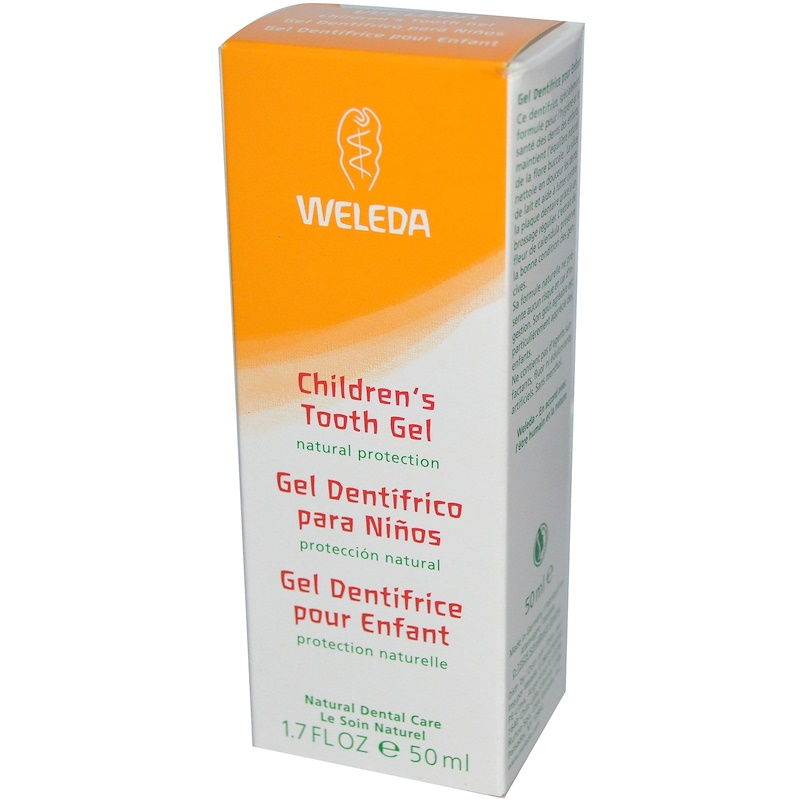 This is a company that operates under the seal of NATRUE. It's an honorary certification usually presented to companies whose products are of great quality and of a natural source. This gel for baby teeth is highly effective and suitable for your baby.

It contains natural silica, which cleanses and purifies your baby's teeth and gum mildly. It also contains Calendula flower extract which takes care of sore gums. Benzocaine is one chemical compound which can pose a serious threat to your baby's health, but for the purpose of clarification, the WELEDA tooth gel doesn't contain this chemical compound, hence, it is safe to use.

Some of its advantages are:
The absence of benzocaine.
Organic compositions.
Sweet to the taste.
Safe to swallow.
Doesn't contain fluoride.
3. Winks Natural
Products that are made from natural ingredients, which can alleviate pain and bring a long lasting solution, is what many people crave for, especially when the pain is experienced by your baby. When you think of pain relief for your baby's tooth, think of Winks.

This product has a swift action and can be very effective within minutes of administration, bringing comfort and relief from pain. Being made from natural substances, it's very safe for use. It ultimately brings utmost comfort, reviving that smile of inestimable value on your baby's face.

Some of its advantages are:
It gives a cold sensation which reduces gum swelling and ensures less blood flow to the swollen areas.
It comes with a money back guarantee.
Preservative-free.
Offers fast and quick activity.
4. Boiron Camilia
This is a product that has been in existence for a very long time, as early as 1932 and has ultimately been known for the provision of relief from pain. You can only be at peace when you know that your baby is safe, free from the pain of teething, peaceful and happy. All these can be derived by using "Boiron Camilia", which is very effective and efficient, bringing a long lasting solution to your baby's teething pain.

Some of its advantages are:
Preservative and dyes free.
Doesn't cause an undesirable sensation.
Can be easily applied orally.
Doesn't contain flavors or fragrances.
5. Balm
This is another wonderful product used for alleviating the pain of growing teeth. The product is safe and doesn't contain chemicals that can endanger the health of your baby. It's an environmentally friendly product which is easy to apply.

Balm provides all round comfort and it ensures that your baby doesn't face problems of stomach pain as a result of ingestion since it's meant to be applied orally and can end up in the tummy of your baby.

Some of its advantages are:
Produced from ingredients like chamomile and catnip of natural sources
Reduces swelling and pain.
It has two available base options which are for the resolution of problems of the tummy which may be experienced by your baby during the process.
6. Essenzia AlternaKids
This contains a mixture of herbal extracts and essential oils and vitamins for the sole purpose of comforting your baby. Essenzia AlternaKids is a chemical free product that brings utmost relief and tranquillity.

It contains sunflower oil, clove bud, grapeseed oil, peppermint, chamomile and vitamin E which is a vitamin that serves as an antioxidant, helping to protect body cells and ensuring the health of blood cells.

The problem of pain during tooth growth can be solved by the utilization of Alternakids natural relief.

Its advantages are:
The product encapsulates a syringe and teether.
It can be administered easily by the use of the provided syringe.
It reduces swellings and alleviates pain.
It's safe since it doesn't contain chemicals.
7. Hyland's Baby Oral Pain Relief
This is another good product that can help. It's made absolutely from natural substances and also contains no benzocaine or synthetic flavors. The product of Hyland is manufactured in agreement with standards for homeopathic pharmaceuticals governed by FDA.

This product usually dissolves almost immediately in order to relieve pain quickly and bring instant comfort.

Some of its advantages are:
Instant dissolution.
Free of Benzocaine.
Free of Belladonna.
It's natural and approved by FDA.
It doesn't contain synthetic coloring.
8. Nuby Massaging Gel
Nuby gel is an all-natural gel which is excellent for pacifying your baby's swollen gums and for other associated issues borne by the teething process. Like the other wonderful products already mentioned, it doesn't contain chemical compounds. But contains antiseptic and anti-inflammatory natural substances like basil leaf, cinnamon, cloves, and nutmegs.

Although it has a strong taste, and some babies may tend to react negatively to it, however, this doesn't reduce its efficacy and therefore people who prefer it will be able to administer it easily.
Safety of Baby Teething Gel
Because babies aren't able to communicate their problems, this makes it cumbersome to understand them and also to recognize some signs of possible discomfort. So it's very important to ensure that any product that you intend using on your baby is safe and will not lead to further complications.

Teething is usually painful and is an inevitable growth process that comes along with various other symptoms. In addition to the many symptoms that have been highlighted above, teething may also cause feverish conditions.

The eight products listed above have been screened for safety. By administering these products regularly with correct dosage, they can help stimulate the teeth and gums enabling easy springing up of the new teeth. Conclusively, they don't contain harmful chemical compounds such as benzocaine, dyes, fragrance or flavors that may lead to health complications.
Related Article: 8 Awesome Teething Biscuits for your Baby to chew on
Offer your baby these popular teething biscuits for comfort
Conclusion
As a mother, you should be ready to welcome the teeth- growing stage of your baby which usually comes with some problems. However, you can help the young one pass through this phase by choosing the best baby teething gels and avoid unnecessary discomfort for your child.

Eight good products have been recommended for you to choose from to help your child to get over the teething phase.