Can Sweet Assassin Adriano Zumbo Save His Dessert Empire?
Zumbo's journey shows the reality of life's ups and downs
Who is Adriano Zumbo? What is he famous for?
https://veryceleb.com/adriano-zumbo/
Adriana Zumbo is a pastry chef and a famous TV personality based in Australia.He was a featured guest on Masterchef Australia, and rose to prominence through his own shows such as Zumbo's Just Desserts and Netflix's Sugar Rush. He is popularly known as the "Patissier of Pain","Sweet Assassin", "Lord Voldecake" and "the Dark Lord of the Pastry Kitchen", and he has often been compared to Willy Wonka, a fictional character in Charlie's chocolate factory who owns a chocolate factory.
How did he get to where he is in his culinary career?
He was born in Calabria, Italy, and then relocated to Coonamble, New South Wales, in Australia. He started helping out at the local IGA supermarket, which was owned by his parents. He also invested a lot of time discovering different types of coffee and learning about their unique properties. When he had graduated from school, he decided to embark on his pastry chef internship in Sydney. Prolific Australian and French chefs, including Pierre Herme and Ramon Moranto took him under their wings.

After his apprenticeship ended, he decided to start his own catering business which provided homemade goods such as tarts, muffins, brownies and banana bread to cafes located in Sydney. Thereafter, he started to market his products at the grower's market and the inception of his first patisserie began in 2017. He managed to expand rapidly, and he ended up having ten patisseries located all over Sydney and Melbourne in 2017.
Television Shows


Zumbo appeared in desserts related reality TV shows such as Sugar Rush as a judge. His appearance as a host/ judge in Zumbo's Just Dessert a reality TV on aspiring amateur bakers was a hit with 2 seasons being released. The interesting twist is the bottom 2 will have to survive Zumbo's test which are gruelling baking challenges based on the desserts that Zumbo has created.

For Netflix subscribers, you are in luck! The show is available and I would highly recommend this show!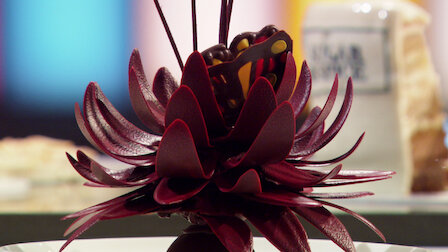 One of the challenges in Zumbo's Just Desserts
Where were his retail stores located? What was Fancy Nance?
https://www.theguardian.com
Fancy Nance was a whimsical cafe and restaurant established by Adriana Zumbo and named after his mother's first name. With bright, neon striking designs adorning the walls, the cafe was reminiscent of an Alice in Wonderland acid trip, with equally funky desserts to match.
What happened to his business? Why and how did it fail?
How did his business fail? Hindsight is 20-20, and looking back, it is precipitated by multiple factors.

An article by the Australian Financial Review speculated that his vanity project, Fancy Nance, had resulted in the downfall of his empire.

In 2015, Fancy Nance was opened. A reporter from The Guardian was not pleased with the cafe's offerings, calling it a "high tea on steroids". The 12-course meal consisted mainly of desserts and ranged from $45-$65. In 2017, Adriana Zumbo's business was embroiled in several controversies, including the accusation that he failed to pay his employees. The company had violated an important employment law by failing to pay them their overtime wages as well. Their superannuation numbers were reportedly bogus as well. The company decided to remedy the problem by hiring external auditors to check on the accounts and conduct thorough investigations. They issued a statement to the press that the workers would be reimbursed accordingly for their labor and time if the company had underpaid them.
In 2018, things started falling apart. Zumbo's business was in debt and owed ANZ, his employees, his suppliers and employees over $10 million dollars. He also had to sell off his $1.7million penthouse.
Investigations by the administrators revealed that the company may have been dealing with cash flow issues, and insolvency since 2017. However, there were external organizations which helped to keep the company afloat. The shop newly opened in Sydney, Circular Quay was a boon for the business, causing sales figures to increase by 16 percent, however, operating expenses rose by 26 percent, which led to an overall loss. Wages were 39 percent higher in 2017 compared to 2016, due to a 1.4 million wage increase.

His shop in Melbourne was doing no better either, as sales dropped by 20 percent due to the closure of Fancy Nance. Operating expenses were getting higher and they were unable to procure desserts from the South Yarra kitchen. Meanwhile, his Melbourne outlet was supporting the costs of rental for Fancy Nance and Little Frankie even after the shop had officially closed. His siblings and parents also played a large role in the company, and they were directors and secretaries of the company, and he borrowed hundreds of thousands of dollars from them. His girlfriend was in charge of the business, working as a retail operations manager as well.
Is Adriano Zumbo able to revive his failed business?
With one allegation after another, and having several mounting debts, it was hard for him to make a comeback.

The tax office also started chasing after him, for more than $1million of unpaid taxes in March 2018. Afterward, he started to liaise with investors, to sell his production kitchen located in Lane Cove West to recoup some of his losses. However, nobody wanted to buy the production kitchen, and they may be unable to repay their debts in full.

Unfortunately, all his shops have remained closed to date.
How is Adriano Zumbo doing now?
Taken from Adriano Zumbo's Instagram: @thesweetassassin
Although Adriana Zumbo lost his business, everything is going smoothly for him in his love life. His relationship with his girlfriend, Nelly Riggio has been going strong, and they recently commemorated their relationship anniversary. Their relationship has weathered several storms including suspicions of infidelity and cheating and stood the test of time. Right now, they are thinking of settling down and starting a family. His instagram features pictures of him as a judge on Sugar Rush as well as his favourite recipes. He has also started doing shoutouts for pep talks, birthdays and christmas celebrations on Cameo. You can send him a request for a shoutout for $85 and you can ask him questions for $3.99.
Related Article: So Khool!: All About Cook-Writer-Broadcaster Rachel Khoo
Brace yourself for a #girlpower read about Khoollect's founder!
Summary
Adriano Zumbo is a very strong and resilient man who has gone through multiple hardships and failures. He is able to get up on his feet and invest his time in energy in other business ventures, such as reality TV shows as well as online Cameos. Success is fleeting, and failure is very common in the culinary world. His life is the prime example of how successful businesses can fail. We should not become too conceited and become overly confident, as our success can often lead to our downfall. We should learn to cherish what we have in the present moment. Health, money, wealth and success? These can be taken away anytime. On the other hand, having a strong fighting spirit and a positive outlook on life will help us ride through the crises in our life when things get tough.