20 adorable babies twinning with their celebrity moms
Celebrity moms cute mother-children twinning outfits of the day
What is Twinning?

Source: Instagram
From celebrities to royals and regular folks like us in between parents are fond of dressing their kids just like them. In recent years wearing matching outfits with your children has become a trend and it has been named twinning. All parents like to have their baby looking like them, next to them. Celebrities like Kim-K, Beyonce, Reese Witherspoon and many more have taken this trend to a whole new level. They're often spotted in coordinated outfits with their mini-mes. Mother and daughter, father and son and sometimes the entire family. Some have been prompted to create clothing lines for kids and companies backed by this trend. No one wants to be left out.

Here are 20 celebrity parents twinning with their babies.
Celebrity moms twinning ootds with their babies
1.Kim Kardashian West And North West.

Source: People
This mother and daughter duo are the perfect example of celebrity parents and kids twinning. Kim-K never passes on an opportunity to dress her daughter North like herself. This has even prompted her to launch her own brand of kids clothes together with her hubby Kanye West, through which she creates mini versions of her wardrobe for her daughter. This pic shows them at Kanye's New York tour wearing matching dresses, Kim in a silver sequin body-con dress and North a custom designed mini version of the same dress. Both dresses are from the French brand Vetements. Kim glammed her outfit with clear PVC heels while North rocked her's with a pair of Vans.
2. Beyonce and Blue Ivy

Source: People
Another pair that is known for crushing matching outfits is Queen Bey and her daughter Blue Ivy. Over the years they have been all over the net in matching costumes, sunglasses and swimsuits. Here, they are slaying in matching dresses and pink shoes in Paris. According to E!Online they were taking a break from her Formation World tour with her rapper/ business mogul husband Jay-Z. They both look chic in their bright colored floral print dresses.

3. Tori spelling,Stella and Hattie McDermot

Source: Instagram/@torispelling
The Beverly Hills actress Tori Spelling and her daughters twinning in florals, they look so cool and zen wearing hippie style kimonos with shorts and shades. The kimonos are from the brand Haberdash Soul Company. Mother and daughter goals!
4. Mariah Carey and Monroe

Source: dembabies.com
This mommy-daughter duo has been spotted twinning on several occasions, wearing mermaid costumes and even pajamas. Sometimes they take it to another level and match outfits as a family together with her son Roc. Even her Ex husband Nick Cannon matches costumes with his kids. In this pic, the 47 years old song diva and celebrity mom and her daughter Roe slay in matching red coats and black leather boots. It's obvious Roe is a little diva like her mommy.
5. Katie Holmes and Suri Cruise

Source: Pinterest/harpersbazaar
The actress revealed in an interview that her daughter Suri is her style inspiration, they're often spotted twinning, like in the photo above of the two on the streets of L.A in matching pink outfits. What's cute about them is they don't over do it, she opts for jeans and suede boots while Suri goes for a dress, such a cute mommy-and-me moment.
6. Chrissy Tiegen and Luna

Source:babygaga.com
The former model turn celebrity mom and wife to the great John Legend and her mini-me Luna rock matching one-piece bodysuits with avocado prints. The pair looks so adorable as they merge their love for avocados with their fashion sense. Only a true supermodel can get this right. But in case you're willing to try this with your little one, the outfits are from Mott 50 suit.
7. Coco Austin and Chanel Nicole

Source: Instagram
The reality TV star and her daughter are always twinning on instagram, this photo shows them matching everything form print leggings to statement T-shirts harbouring a sweet message, black snickers and sunshades. These two are the epitome of a cool mother and daughter.
8. Khloé Kardashian And Baby True

Source: Instagram
New mom Khloé Kardashian has joined the trend, like her sisters she too has started twinning with her daughter. she recently shared a pic on instagram of her and her baby girl True from their family trip to Bali, they were both wearing cute traditional Balinese sun hats and white outfits. What a sight, baby True's smile is the cutest thing ever.
9. Jennifer Lopez and Emme

Source: Pinterest/harpersbazaar
J.Lo and her daughter all glamed up and looking sweet in pink, they're both wearing pink peplum dresses with floral designs.They both accessorize their outfits with handbags, J.Lo opts for classic pumps while Emme wears black Mary Janes and white socks.
10. Gisele Bunchen And Vivian Brady

Source: parents.com
Gisele Bundchen, supermodel, actress and wife to the New England Patriots quarterback Tom Brady and mom of three is also an adept of the twinning trend. Together with her daughter Vivian Brady, they like wearing matching outfits and could be seen rocking matching Patriot jerseys especially during games to support Brady. This queen of the runway used to be one of the world highest paid models and it seems her daughter inherited her swag and fashion sense.
11. Kourtney Kardashian, Mason and Penelope

Source: People​​​​​​​
Another Kardashian sister and celebrity mom Kourtney, stepped out in Los Angeles, matching outfits with her son Mason and daughter Penelope, all three are in black and white striped T-shirts and shorts. She has been seen a few times twinning with her daughter in Channel shoes and flannel shirts.
12 Kate Middleton And Princess Charlotte

Source:theroyalmail.uk
Duchess Kate too likes to dress up her daughter in matching colors, although as royals they tend to infuse a little bit of subtlety, it goes to show that when it comes to babies, all parents are the same. They love their mini-me moments, all sweet and pretty in their pink ensembles at the 2017 Trooping the Colors at Buckingham Palace.
13. Jessica Simpson and Maxwell Drew Johnson

Source: parents.com
The beautiful mother-daughter pair stepped out to attend Ashlee Simpson's wedding ceremony in matching white dresses, they were bridesmaid and flower girl respectively.
14. Gwen Stefani and Zuma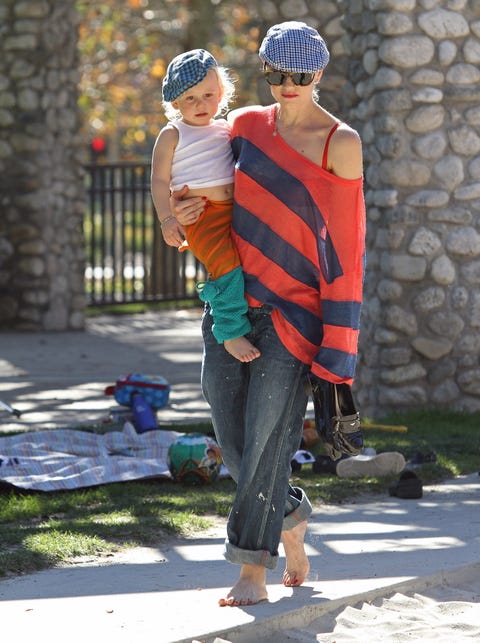 Source: Pinterest/harpersbazaar
Gwen Stefani another supermom, popstar, singer/songwriter, mom of three and fashion designer always gets it right. She's pictured here twinning with her son Zuma, they're both wearing matching beret hats . Gwen Stefani has her own kids approved clothing line and she and her sons have been seen in matching outfits with her and sometimes with her country singer hubby, Blake Shelton.
15. Jessica Alba And Honor

Source:pinterest.com
Actress Jessica Alba, who is married to Cash Warren and three kids, two daughters and a son, whom they dress stylishly. She is seen in this pic with her daughter Honor, on the streets of Beverly Hills as they rock matching mommy daughter outfits. This mommy-daughter duo has slayed the 'rocker' look with their outfits and boots.
Babies dressed alike their celeb dads
16. Prince William and Prince George
Source:Anwar Hussein/Getty Images
Even royals have picked up the twinning trend. It's not really new to them though there are lots of pictures online of Princess Diana wearing matching costumes with her kids long before it became a trend. So it's no surprise when Prince William is seen twinning with son Prince George. This picture was taken outside the hospital after the birth of Princess Charlotte. The father-son duo is wearing matching blue sweaters and white shirts
17. DJ Khaled and son Asahd

Source: Pinterest/harpersbazaar
Celebrity dad Dj Khaled always finds a way to match with his son Asaad who is a celebrity baby in his own right. He has a huge Instagram following and a fan base. They matched at the Grammys as seen here on the red carpet in velvet maroon suits. A very chic daddy-and-me moment sealed with a kiss.
18.Matthew McConaughey and Son

Source: Pinterest/harpersbazaar
The actor and his son could be seen twinning as they step out in L.A dressed in the same grey suit.
19. Ricky Martin And Sons
The celebrity dad, singer/Latin lover Ricky Martin is pictured above twinning with his two sons in a photoshoot. All three are dressed in matching white collar shirts looking dapper.
20. Nick Cannon And Roc
For Nick Cannon and his ex-wife Mariah twinning with their kids is a family affair, sometimes the whole family wears matching outfits, on other occasions, Nick matches with their son Roc while Mariah matches with their daughter Roe. This pic is a great example, the superstar/actor/dad is wearing a matching orange sweat suit with his son while Mariah and their daughter are wearing black leather jackets and skinny jeans.
Conclusion
Twinning is a trend that's not likely to disappear anytime soon, as little girls always want to dress like their moms and boys like their dads. Everyday celebrity parents take to Instagram to showcase their style and fashion sense and this is shared with their most prized possession, their babies. Not exclusive to celebrities you too can try twinning with your little one and take cute pictures.