10 Best Pull-Along Kids and Toddler Wagons Reviewed
Have some family bonding session with these top 10 toddler wagons
A toddler and their wagon. Having your own wagon was one of the joys of childhood. Whether they like to pull the wagon or be pulled themselves, there were no other toys that symbolize both a child's independence and their dependence at the same time. Watching your child load up their wagon with their personal belongings and then pull it all of 10 feet where they will then unload it, is one of the most entertaining things you will ever witness. But there are benefits to this, as your child is developing strength by pulling the wagon, but also problem-solving skills are developed as they pack in their toys for the "long ride. But today wagons can be used a myriad of ways from being used not just as a child's toy, but to help you carry belongings over the sand at the beach, hauling bags of soil for landscaping projects, or even just to store toys in the garage.
What Features Should You Look For on Toddler Wagons
There are a few things to consider when looking for the perfect wagon:

1. Size
What will the wagon be used for? How many children will it possibly carry? How much stuff will you need to haul to that perfect spot on the beach? Obviously, a larger family will need a larger wagon and so forth. If the plan is to use the wagon to transport, then you would need one that is big enough to eliminate those unnecessary trips back and forth.
2. Handle
Comfort and ease are important when it comes to pulling a wagon. Look for an ergonomically designed handle to help control your wagon.
3. Storage and Assembly
When not in use, how will it be stored? Will it fold down, or be kept in the corner of the garage until it is used again. If you need a big wagon then make sure that you have the room to store it. Don't want to keep tripping over it constantly and regretting the day that you purchased it. Assembly is a no brainer. A good wagon should be able to be assembled with minimal use of a manual.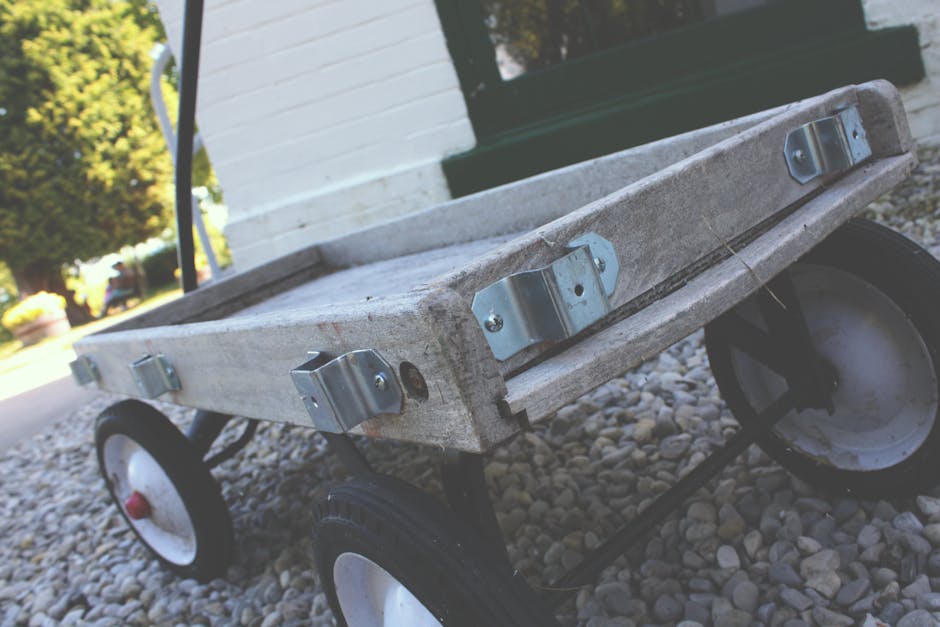 4. The Wagon's Wheels
The size of a wagon's wheels plays a large part in moving the wagon, especially with weight in it. Larger wheels will make the wagon easier to roll over asphalt, pebbles, grass, and sand. Be aware of the maintenance that may be required with certain wheels.
5. Durability
Durability is key to a wagon lasting a long time. It will more than likely not only be a toy that your little one will use during their playtime sessions but could also be something that can be a big help when making that trek to the beach.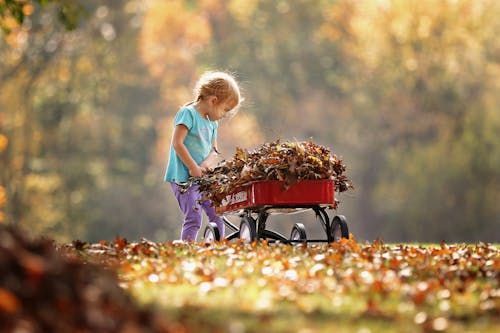 Best Toddler Wagons With Seatbelts
Since your child will more than likely be towed around at their leisure, safety is important. Making sure that they are strapped in to the wagon reduces the risk of them falling out and getting hurt. Here are a list of the best toddler wagons that combine safety with fun.
1. Radio Flyer Pathfinder
The Radio Flyer Pathfinder Wagon is constructed of a sturdy body is recommended for toddlers 18 months and up. This wagon has two built- in seats that have a seatbelt complete with between-the-legs strap. There is enough room to allow your child to put their feet down. The seats can also can be folded down to give your little one more room to tow. Features a long handle that makes it easier to pull and can be folded up underneath the wagon when not in use.
2. Step2 Neighborhood Wagon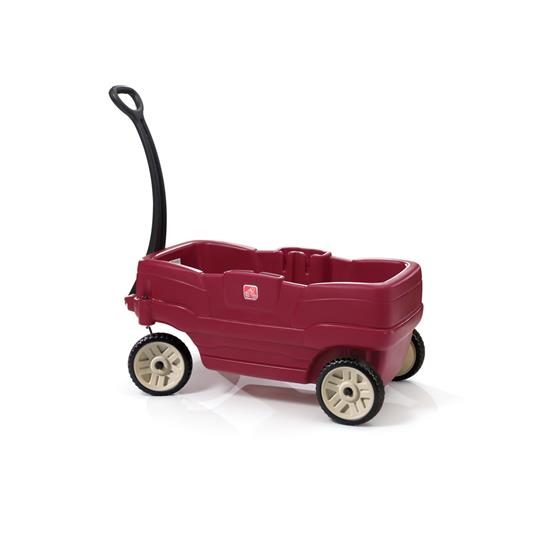 The Step2 Neighborhood Wagon provides a smooth and comfortable ride whether your child is the one pulling the wagon or getting towed themselves. Made of durable plastic, this wagon features two contoured seats equipped with seatbelts and a deep foot well ensuring your child has plenty of legroom. It also has a storage compartment on the side panel where they can store small items like toys and snacks. It features a long handle that folds under the wagon making for convenient transport or storage.
3. Step2 Choo Choo Kids Wagon
The Step2 ChooChoo Kids Wagon is perfect when leaving the house with one child or multiple children. Also, you can get the ChooChoo Trailer where you can securely attach up to 5 cars to make a train. Each car features plenty of legroom and safety seatbelts. There is storage underneath the red car and the wagon has a long handle that makes it easy to tow.
4. Little Tikes Fold 'n Go Folding Wagon
If convenience is what you are looking for, The Little Tikes Fold ' n Go Wagon can be folded up and is lightweight enough to be carried anywhere you want to go. This makes it easy to store and to place in the trunk of your car. Comes with two bench seats that can be folded down for towing purposes. It comes with two seatbelts and equipped with cupholders as well.
Best Toddler Wagons with Rubber Wheels
Wagons have come along way from the days of the metal carriages and metal wheels. Having rubber wheels on a wagon increase the chance of not only easier to pull but will almost guarantee a smooth ride for your toddler.
5. Radio Flyer Big Red Classic
When it comes to quality, Radio Flyer doesn't disappoint. The Radio Flyer Big Red Classic is just that. Quality. This wagon is made out of durable steel construction on top of real inflated 10" inch rubber tires. The Big Red Classis comes with deep seating ensuring a comfortable ride for your adventure seeking kiddos. It is equipped with a long handle that folds underneath the wagon making for easy storage. Has a controlled turning radius to prevent the wagon from tipping. This wagon is the perfect blend of a classic look with a rock-n-roll feel.
6. Berlin Flyer Ride Sport Wagon
The Berlin Flyer Ride and Sport is made in the heart of Amish Country in Berlin, Ohio and makes for one tough wagon. This wagon features rubber wheels and not tip steering and can hold up to 150 pounds. The high-quality. Don't let the toughness of this wagon fool you, you will be the talk of the neighborhood as heads will turn when you take your little ones out for a ride around the block.
7. Hauck Wagon
The Hauck Eco Wagon is great for everyday use. Its versatility gives you a wide range of options besides just being used for the kids. It can be used to take the kids on a stroll, for landscaping needs, or hauling anything in general. This wagon folds up very easily making it easy to store. The Fabric sides can be easily removed to be washed along with the seating inside. Comes with a canopy as well to protect your little ones from the sun. The Eco Wagon has sturdy wheels that feature a durable and smooth rubber with two sets of bearings in rims to make for a smooth ride.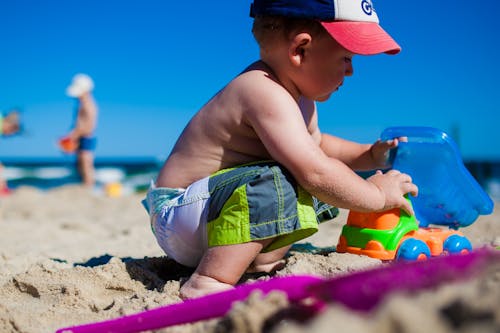 Best Toddler Wagons for Strolls and for the Beach
8. Radio Flyer Deluxe All Terrain
The Radio Flyer Deluxe All Terrain features all-terrain tires that make for a smooth ride on any surface. Its UV Protection Canopy provides essential shade and protection from the hot sun. Also has a fold over handle which makes for easy storage. Its five-way flip and fold for seats make it useful for a number of different purposes. There is seating available for two, it can be used for covered storage and ride, and for just towing. This wagon also comes with both child and adult cup holders as well.
9. Step 2 All Around Canopy
The Step2 All Around Canopy Wagon is a durable and sturdy wagon that can be used for just about anything. Features a removable canopy and rear storage compartment to store cold drinks, snacks, toys you name it. Has an easy access door that opens up to two benches with seatbelts for your little ones to sit nice and secure. There are also cup holders available inside the wagon. The Long handle can be stored underneath the wagon when not in use. The Step2 All Around Canopy Wagon is great to use in your driveway, walks in the park, or for a trip to the beach.
10. Little Tikes Deluxe Ride and Relax
The Little Tikes Deluxe Ride and Relax Wagon with Umbrella is the perfect wagon for the beach. This wagon will quickly convert to a seat allowing your little ones to get their feet off of the hot sand. The umbrella that comes with it is nice for shade and protection from the sun. Equipped with cup holders and coolers to carry cold drinks or snacks. When the children are not using it, remove the sides, and it can be used to tow stuff around. This wagon does require a little more assembly compared to your standard wagon and it is a little big to store, but one trip to the beach with this wagon will make it all worth it.
Summary
A wagon is that one toy that its memories will always stay with you. So when you are looking for a wagon, keep in mind the memories that will be created for you and your child. Make sure that it is versatile, practical, and most importantly fun.