10 Things You Wished Someone Would Have Told First Time Dads
Most important thing first time dads would have wanted to learn
10 Most Important Things Daddies Would Have Liked To Learn About
You hear those words, "Babe, You are going to be a father". Cue the emotions falling on you like a ton of bricks. It is amazing that during certain points in life the brain surprises us. This is one of those times. Who knew that the feeling of excitement and terror can come at the same time? Thoughts of " Will I be a good father, How will I afford a child, to How do you change a diaper?" start rolling in.

As that baby bump begins to grow, so does the anxiety. The roller coaster of emotions that soon-to-be dads face will be substantial. Yes, moms experience the same emotions, plus the physical discomforts, but most of the time there is a peace and tranquility that comes with it that can reassure and support moms. Dads not so much. But guys, we are here to tell you that it will be ok, it will work out. Take the advice from fathers who were in your same shoes not too long ago, and it all worked out for them in the end.
1. What to Expect During Delivery
The time has come. Whether you are at work or taking a walk around the mall, you get the call that the baby is coming. Emotions and stress levels start to run high and anxiety kicks in. Stop!! The most important thing you need to do at this point is to stay calm and stick to the plan.

You do have a plan, right?
2. A Plan
Remember the plan, yeah that is important. Have a bag packed with clothes and toiletries ready, phone numbers for people you will need to call, and a map to your destination all readily accessible when the time comes for you to use it. If you are one of the few parents that have not experienced "false labors" then there is no practice run. Even though you may have some time before the baby comes since labor can usually last a couple of hours, you still want to have a plan in place that way all your focus will be on mom and baby.
3. Active Participant
Hopefully, you were paying attention during all those Lamaze classes that you "had to go to" because now its showtime. Counting Breaths, helping monitor contractions, even wiping her forehead, all these things are necessary to help mom feel relaxed and comfortable, but most importantly you are there. Your presence will be greatly appreciated by mom and the doctors. I mean whose hand is she going to squeeze when the next big contraction hit, if yours is not there to grab.
4. Be Ready
Once in the delivery room be ready. It can be:

Long - Labor can be a long process. Stay engaged with mom. Don't whine or complain about how bored you are. Stay engaged and attentive. Your goal is to keep mom as comfortable as possible until your little one makes its appearance.
Messy - This goes without saying. With the combination of bodily fluids, the noises and language that will fly out of moms mouth while pushing, it can be a little unsettling. But remember your role. Be supportive and reassuring. The calmness in your voice will help her maintain her focus.
Emotional - There will be no better experience (which is why you should be in there in the first place) then when your little one lets out their first cry. Just like the opening bell, this ride has been fun so far but, you have not seen anything yet.
Tips During Pregnancy For Those 3 Trimesters
Pregnancy is not fun. It is not a time for men to be selfish and worry about their own feelings. Especially during the first trimester, your partner is battling nausea, peeing every 5 minutes, and experiencing pain in places that she has never felt pain before. Your role throughout this process is one of support and care. If she wants that bean burrito at 3 am, you go and get it. Remember she is going to be the one that will either have surgery or the one doing all the pushing, so the least you can do is rub her feet once in a while.
1. Her OBGYN Appointments
This one may be difficult because she may not want you there, (and that is said with the utmost respect and care). It may be something you might want to discuss before going, because the examination itself can be a little uncomfortable with you in the room, plus the weight gain doesn't help. But guys, if she wants you there, be there. The discussion between her and the doctor is about strategy and what she needs to do along the way, and who is her biggest supporter? YOU!!
2. Be Involved
Whether it is picking out the colors for the nursery, building the registry or just even meal planning, be involved. Mom wants to make sure that you are as excited as she is with the new arrival, and guys always remember that actions speak louder than words.
3. Compliment Her
Her body is changing. Clothes don't fit anymore and there is no way maternity clothes can be made to feel stylish or sexy. Make sure you let her know that you love her and that your continued support will go a long way.
Related Article: Coping with the new challenges of being a Dad

With a child you can never be ready and despite the emphasis made on Moms, who said Dad has it easy?
The Stuff You Really Need as a First Time Dad
There are a few things that will be given to mom to get her ready for the baby, but will they think about you? This is when you have to think for yourself and best prepare especially if you plan to take the baby out with no supervision. Yes dads, that is possible.
1. Digital Camera
Vital piece of equiptment. If you don't have one now, this is a great excuse to go out and get one. Today with camera phones its very easy to think that you don't need one, but lets face it how often do you develop those shots that you take using your phone. Go out and treat yourself to a quality camera to capture those once in a lifetime moments. You will not regret it.
2. A Diaper Bag
Guys, don't take this the wrong way but try to use a diaper bag that may be more practical for you to carry. There is no reason that both you and mom cant have your very own diaper bag. It helps especially with those daddy and baby day trips. No need to try and find the one bag. You can keep the bag packed with diapers and clothes and it will be ready for whenever you need it.
3. A Car Seat For Your Vehicle
"Yeah, we only need one car seat, we can always move it between the two cars". Sounds like a great idea, said no one ever. All kidding aside, it is so much easier to have two car seats for two cars, for the reasons stated above. when having to constantly move the seat from one car to the other, it can be quite challenging trying to find those latches in the seat of the car. That is not easy and it is rough on the hands. Plus being stuck at the house because mom took the car with the car seat can be very frustrating.
4. A Self-help Dad Book
There are resources out there to help you through the challenges that you will face. There are also articles like this one that can help as well. Don't feel like you are all alone.
Related Article: Stylish and Useful Diaper Bags for Dads on the Go

As a dad, if you are looking for a diaper bag that serves twin purposes, you will have to go for a multi-dimensional backpack.
Survival Kit For Dads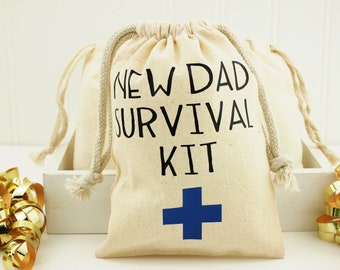 There are a few things that the new dad could benefit from when the little one comes:

Comfy Slippers - A must especially with thick soles. Why thick soles you ask? Because of Legos. Legos hurt
A Streaming Movie Service - For when the baby is (finally) napping and plus mom will benefit from this too.
'
Coffee Maker - Another necessity. For those long days and longer nights to help keep you fresh and on point. (Something else moms can benefit from in the long run)
Baby Apps - Free to download, it is like a virtual assistant to remind you when is the next feed before you know it
Top 3 First-Time Dad Books to Curb Curiosity
1. The Expectant Father
This book explains it all. Helps guide the father to be through the months of pregnancy with tons of useful information. Also has tips on how to properly raise a child, and insight on a fathers role in the development of their child.
2. Great Expectations Becoming a Dad
This book is a little different because it goes into not only the psychological development that your newborn will experience the first 3 years of their life but how your psyche will change during the process as well.
3. Be Prepared: A Practical Handbook for New Dads
This book brings some humor to your new adjustment to fatherhood. From tips to hiding old remotes and wallets in a drawer, to how to change a diaper at a packed sporting event. This book will have you prepared in no time especially if you need a diaper and all that is available is a towel.
Conclusion
All in all, it is a challenging journey. There are a lot of bumps and bruises along the way, but it helps when you have a partner to experience with. If there is one thing to remember, is to utilize your support system. If someone you trust offers to watch your child, take them up on it. If someone is giving you their advice, listen. The network of people that you have around you are going to be the biggest support system you have. Take advantage of this time, especially in the beginning, because you will realize that the nights are long, but the years will pass you by very quickly.