8 Best Fertility Tea that Moms-to-be are Drinking
A compilation of fertility tea that really give you a baby bump!
Children are one of the joys and blessings of marriage or parenthood. Getting a baby bump is quite exciting and quite easy for some women, but this is not the case for everyone. Some women are not as lucky as some others who just have to do little to nothing to get pregnant; all they need is a man. When you really want that baby bump, you would definitely be willing to go to all lengths to make the process faster, and herbal teas can do just this for you.

Are you having a bit of issue conceiving and you are not completely buying the idea of the traditional use of drugs? Or do you want to improve or preserve your fertility for future purposes? Herbal teas can do a great deal for you. Herbal teas contain all the natural ingredients you need that can help boost, improve or preserve your fertility.

The amazing part is that you don't have to go through the stress of visiting hospitals, swallow pills and the likes; all you've got to do is drink tea, easy peasy right? If you need some remarkable and reliable commendations, then you have found your way to the right place. Here, we would give you the best recommendations there are of herbal teas that can work that magic you need and have that baby bump growing in no time.
Fertility teas: Herbal teas that really increase chance of pregnancy?
Fertility teas are usually herbal teas. These herbal teas contain a lot of natural ingredients that help nutrify, replenish and promote not just fertility but also your health. They have been used and passed down from generation to generation and have produced excellent results. But I bet you are wondering how it is possible that you enjoying your tea can increase your chances of being pregnant, hasten the process and improve fertility.

A lot of women, even those who don't also possess any fertility issues might find it a bit hard to get pregnant. This is seen as the present situation, as we find about 12% of women in the United States visiting the fertility experts and utilizing the infertility services. A lot of women even after visiting experts and making use of these services find it hard to pinpoint the underlying problem or cause of their infertility. Whereas this could be due to minor and usually ignored issues like excessive stress, and dehydration. Sometimes all that is required of the lady is a little change here and there in her day to day life, some rest, a change in diet and so on.

The most common and popular natural herbs contained in these teas are the red raspberry leave, chaste berry, nettle leaf and vitex. The components could also be dried tree or herb barks, fruits, flowers, roots and so on. Because these sorts of ingredients are dried, they are usually brewed or infused in water. These herbal teas work in different ways, either by adjusting and improving hormonal levels or improving the overall health of the reproductive system which includes the uterus, ovaries and the fallopian tubes. Taking these herbal teas usually requires no prescription, but this freedom should not be abused, excess herbal teas can have an effect on your health and also pregnancy. It is important to note that, not all herbal fertility teas are not entirely safe or recommendable while pregnant.
8 Fertility Teas to Get for Mom-to-be
For moms-to-be, herbal teas would be a great idea. Taking a fertility herbal tea isn't enough, but drinking the right and the best one is. To get excellent and fast results, it is necessary for you to use the best products there are. Do you have difficulties getting the fertility herbal tea that would be just best for you? Here we would give you the best recommendations and how they can assist you in promoting fertility.
1. Recommended: Pink Stork Fertility Tea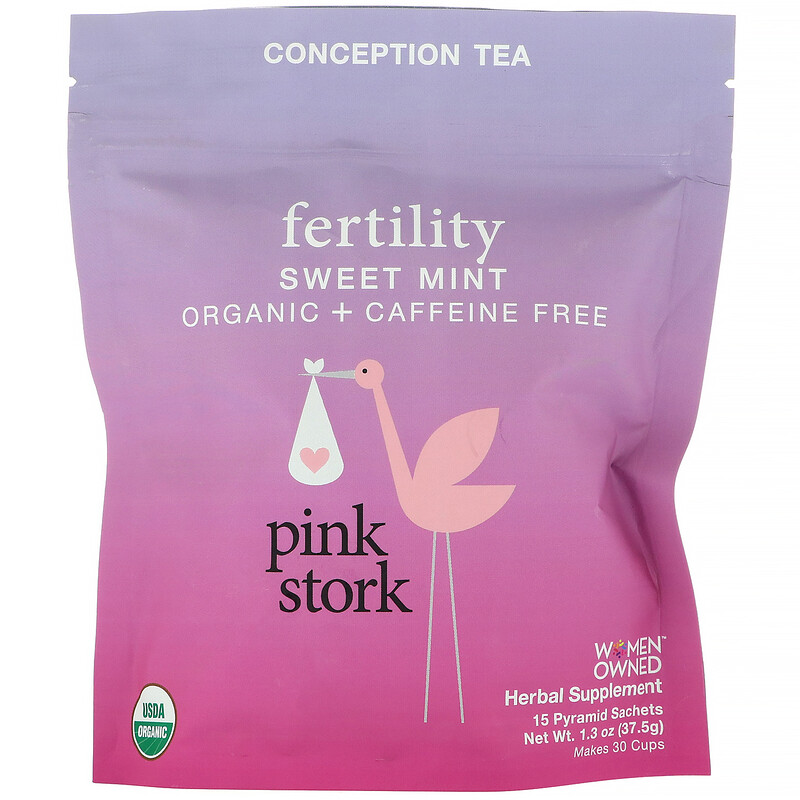 Looking for the best? You just found it. This herbal fertility tea contains, red raspberry, chaste berry, nettle leaves and about 4 other nourishing herbs and no caffeine. It is entirely natural and comes in different flavors leaving you with many choices from which you can take your best pick. Each pack comes with 15 pyramid shaped biodegradable sachets of tea. Each of which is capable of producing about 2 big yummy cups for you. This is one of the features that give it more advantage over other teas. It enhances fertility by improving hormonal balance and also promoting and regularizing your menstrual cycles. It can be utilized before, during and after your pregnancy.
For PCOS
PCOS simply means polycystic ovarian syndrome. In this condition, the woman is said to have one or more cysts in her ovaries (the organ that produces and stores your eggs). This has an effect on her ability to get pregnant and fertility and also her general health. It causes some hormone imbalance and therefore prevents her from getting pregnant. It presents with a whole lot more symptoms such as hair loss, acne, weight gain and more.

This is mostly as a result of excess hormones called androgens in the body, an example is testosterone. Although there hasn't been any found cure for PCOS, herbal teas have been discovered to play a significant role in improving fertility in women with PCOS.
2. The Organic Spearmint Herbal Tea
This spearmint flavored tea does not just improve fertility, but general health. The primary component of this herbal tea is spearmint leaves which contain vitamins, nutrients and anti-oxidants. These leaves act to reduce the number of androgens, majorly testosterone in the body and also increase the necessary hormones involved in fertility and even the menstrual cycle. This would significantly improve fertility and also reduce the symptoms that accompany PCOS, although the effects might not be instant.

It is sweet, minty, caffeine-free and comes in a case of six boxes, each of which contains about 16 sealed tea bags.
3. The Organic Raspberry Leaf Tea
This aromatic, yummy and nerve relaxing tea has its major component as the raspberry leaf. The leaf acts on your reproductive organs and improves their functions. It also works to reduce menstrual cramps, improves and regularizing menstrual cycle and it also enhances fertility by promoting pregnancy nutrition and nourishes you well enough just before pregnancy. It has no caffeine and comes in about six boxes with each box containing a total of about 16 tea bags.
From Teavana
4. Teavana Peach Tranquility
This is a herbal tea that has more of general health benefit. It contains peach, chamomile, pineapple, lemon verbena and some other natural ingredients and is sweet, completely soothing and safe for you. Each one comes with 4 packs which contain about 15 sealed tea bags, giving you a total of about 60 tea bags to last you at least a month. This tea has antioxidant properties and helps to improve fertility and also soothe pregnant women, although intake while pregnant should be controlled.
5. Teavana Citrus Lavender
This yummy tea comes with a delicious mixture of orange zest, pineapple, apple lavender, and chamomile. It is soothing, calming and contains excellent natural ingredients that contribute significantly to a healthy living and improved fertility. It is caffeine free and has muscle relaxing, anti-inflammatory benefits. It also helps to soothe menstrual cramps and help you with a smooth pregnancy. Each package comes with about 4 packs, each of which contains about 15 sachets. These sums up to 60 sachets in each packet.
From Target
6. The Tazo chamomile tea
The primary content of this naturally beautiful herbal tea is chamomile. Chamomile has awesome and magical effects on your health and thereby your fertility level. It has antioxidant effects; it clears up acne, helps you sleep better. It is taken in controlled and minute quantities during pregnancy in other to soothe pains and reduce or get rid of inflammations. However, this tea is not given to every pregnant woman because of past medical issues, allergies and likes. Each package of this tea comes in different pack sizes depending on how much you want and what you can afford.
7. The Tazo Passion Tea
Want that baby bump growing in no time? This luscious blend of hibiscus, chamomile, orange peel, cinnamon rose hips, and passion fruit flavor is one of the best you could ever ask for. It contains the number of natural herbs that contribute to your fertility levels and also improve your overall health. It has antioxidant properties, contains vitamin C, helps to fight bacteria, and tackles with hypertension. The cinnamon contents help to minimize and reduce heavy menstrual flows, help to improve uterine and ovary functions and health. It is also suitable for women with PCOS. It comes with about 2 packs, of which contain 10 sachets each.
8. The Tazo Zen Tea
This is one of the perfect types of tea, mainly for tea lovers. It is a green tea and offers more than just fertility improvement, it also helps with weight loss, stomach upsets, relieving cold and a whole lot more. It contains spearmint, lemongrass and green tea leaves. This tea includes some antioxidants, vitamin b, folic acid, and a lot of other nutrients which aid and improve fertility. Its spearmint component also helps to promote hormonal balance. This tea contains caffeine and so should be avoided during pregnancy.
Related Article: 10 Ways That Increase Fertility and Get Pregnant
What are the top way to increase your fertility for pregnancy
Conclusion
You are either anxious to get that baby bump, or you want to make sure you can get another. These herbal teas are definitely one of the best options you can pick for this purpose. They are effective, safe and require no medical prescription, although this doesn't imply that you are allowed to take them in excess. This tea helps improve your fertility levels and also keep you healthy. Do not forget that, not all of these fertility teas are suitable for you while pregnant, you definitely do not want to ruin your bump, before your baby comes.