50 Sweet Good Morning Text Messages To Make Him Love You More
Everyone loves a good morning text from their lover, including guys
Have Your Boyfriend Wake Up to a Sweet Good Morning Text
Girls are not the only ones who feel special when they wake up to a good morning text from their lover. Guys are always expected to be the one giving all of the love and affection to his sweetheart, but sometimes, he needs just as much love to help him wake up and start his day in a good mood. Try to switch things up and what better way to do that than by sending your boyfriend some flirty, cute text messages to help him start his morning feeling loved and appreciated.

No matter how long or short, how funny or romantic, one text message can set the mood for his whole day! A good morning text is the best way to show him that you care about him and that he was on your mind this morning. Don't be afraid to show him the same love and affection you crave. Just one message can create a sense of romance in the air for both your boyfriend and yourself. Below are a ton of different flirty, sweet, silly, and romantic text messages to tell your boyfriend good morning.
Short and Cute Morning Text Messages for Your Boyfriend
There's no need to write a long love letter to your boyfriend in the morning; he won't be able to deal if he is just waking up. Short and cute text messages are the most simple good morning text messages you can write, but they still have the ability to make your boyfriend smile. Short messages also get straight to the punch, and it won't take too much effort to read and try to understand what you are writing to him. Short and sweet messages allow you to make your boyfriend smile and feel loved. These messages will warm his heart and make him feel more appreciated and important to you. Short text messages may not seem that important a guy, but it really would brighten his day to get some love from his girlfriend. Here are a few ideas for cute, short messages:
1) Good morning, handsome! I love you!
2) Hey, babe. Thinking about you.
3) I wish I was in your arms right now.
4) Have a great day!
5) Good morning my special guy. Have a great day!
6) You mean so much to me. I love you!
7) You always bring the biggest smile to my face.
8) Without you, there is no me.
9) You're the greatest guy I've ever met.
10) Love you, babe! Good morning!
11) You really are a dream come true.
12) I hope you had the sweetest dreams, my love.
13) I'm sending love your way this morning! <3
Flirty Morning Text Messages to Your Boyfriend
A flirty, sexy text message will surely wake your boyfriend up in the right mood any morning. Don't be afraid to be a little spicy for your boyfriend in your good morning text message. Sweet messages don't always have to be bland and sappy. You can think about it this way: with every dose of sweetness, there needs to be a hint of spice to balance things out. Also, try to add some winky face emojis, so he knows that you're flirting with him. It will add that little touch of sweetness and affection. Make your man feel loved with a few of these spicier text messages to start off his morning:
14) I had a really steamy dream about you last night. Can't wait to see you!
15) Just got out the shower, wish you were here to help me get dressed. I love you.
16) Good morning, babe. I just got dressed, but I can't wait for tonight when you're taking all these clothes off of me! Have a great day.
17) Had an amazing time last night. Hope your morning is full of recovery.
18) Good morning, baby! I hope I have a spot on your busy to-do list today!
19) I hope your morning workout doesn't have you as sweaty as you were last night. Good morning and stay hydrated!
20) Even though I want you right now... bad... I'm willing to wait to see you tonight. Good morning!
21) A good morning would involve you having me for breakfast... but since I'm not there, my text message will have to do.
22) I love you, sleepyhead! I know you're looking extra sexy with the bedhead hair!
23) I hate waking up with you on my mind, but not in my bed... huh... Well, good morning!
24) I won't be satisfied until I feel you on my body. Good morning, sexy!
25) I'm going to have a good time in the shower this morning thinking about what we were doing last night! I love you!
Related Article: What Is Intimacy And What It Means In Your Relationship
Generally, by the time you marry someone, they know everything about you and vice-versa (well almost everything! Just saying!).
Silly Morning Text Messages to Your Boyfriend
A silly message will not only make him feel loved, but he will laugh when he sees your message. Depending on his age, maybe school or work or the combination of both and life in general is stressful for your boyfriend. In that case, a silly little good morning text message will get him giddy. Silly text messages can help your boyfriend wake up on the right side of the bed and start his day with a smile. Guys like a funny girl and they like to laugh. Not all romantic, cute text messages have to be so serious. Make him smile or laugh with one of these silly good morning text messages:
26) Babe, I know you check your phone every morning, so... here I am for you to think about me! Just kidding! Sort of... I love you and good morning!
27) I know you woke up wondering why you still aren't a millionaire. But you should feel like a million bucks! You got me! Lol. Just kidding! Maybe... Have a good day, my love.
28) Good morning, beautiful! Open those pretty blue/brown eyes I love to swim in!
29) I hope your day is as nice as your butt! Good morning, sweetie!
0) I don't like morning people. Or mornings... or people... But I love you!
31) Good morning, babe! Have a big cup of coffee for me and you! (I already know you will).
32) I would fix you breakfast in bed, but I'm lazy. So a good morning text shall do. Good morning!
33) Good morning you sexy beast! This beauty will be waiting for you! Can't wait to see you today!
34) Babe, I know you woke up this morning at 6:59 am to see that you still had one minute of sleep left and went back to sleep. You can never miss out on any amount of sleep! Lol. I still love you, though!
35) I know this will hurt you but, babe, it's time to get up! Good morning!
36) Wakey, wakey, stinky baby! Lol, I love you, babe!
37) Sorry, babe. I picked coffee over you this morning. But I felt bad, so I wanted to text you good morning. Good morning!
38) Good morning, my grumpy cat! I hope you have a good day! And I know you're not much of a morning person, but remember... it's illegal to kill people, especially when your reasoning was: "Because they were so loud this morning!"
Sweet and Romantic Morning Text Messages to Your Boyfriend
Sweet, romantic good morning text messages will surely make your boyfriend feel loved. Girls are not the only ones who get butterflies when they get a sweet text message from their lover. Although guys don't show it that often, they really do fall more in love with you from a deeply romantic good morning text message. Here are a few romantic text messages you could use this morning to make your boyfriend feel loved:
39) I thought about you last night, and I'm thinking about you again this morning. I love you!
40) Without you, I don't know if I'd have a smile this big on my face this early in the morning.
41) I wish I could be in your arms right now. You always know how to keep me warm and safe. Good morning! 42) The loneliest time of the day is when I'm not laying next to you! I can't wait to be in your arms and shower you with kisses.
43) I just wanted to let you know you are the sweetest, most loving guy I have ever met! I'm so happy I have the pleasure to wake up thinking about you!
44) I wish I could be with you day and night. It sucks that I have to send you a good morning text instead of cuddling with you. But I love you all the same! Good morning!
45) It feels great to have such a handsome man like you on my mind this early in the morning! Good morning, my love!
46) Although I like to put a bit of sugar and creamer in my coffee every morning, your kisses are always the sweetest things on my mouth. Can't wait to feel your lips on mine!
47) Thanks for being the greatest boyfriend a girl could ask for! You're the best! Good morning!
48) I'm so happy my dreams continue to come true! Just having you in my life makes me so much happier! I hope you have a great day!
49) I woke up this morning and saw the beautiful sunrise, but even the sun couldn't compete with your amazing smile! Good morning!
50) You're the best! I hope that your day is full of joy! Mine will be, because you'll be on my mind!
@dawnmarie1980 / Instagram
Keep Making Him Love You
@littlecaesargonzalez /Instagram
No matter if the message is long and romantic, short and sweet, flirty, or even silly, your boyfriend will feel happy to wake up and see he has a good morning text message from you. It will make him smile to know that you were thinking about him early in the morning. To add to the text, you can even insert sexy pictures of yourself, or silly selfies, or even a memo that will make him smile. The options are unlimited. There is no such thing as too much when you're telling your man good morning and waking him up to a little surprise message from you bright and early. These texts will definitely have him falling in love with you all over again.
Related Article: What Does Love Feel Like Physically And Scientifically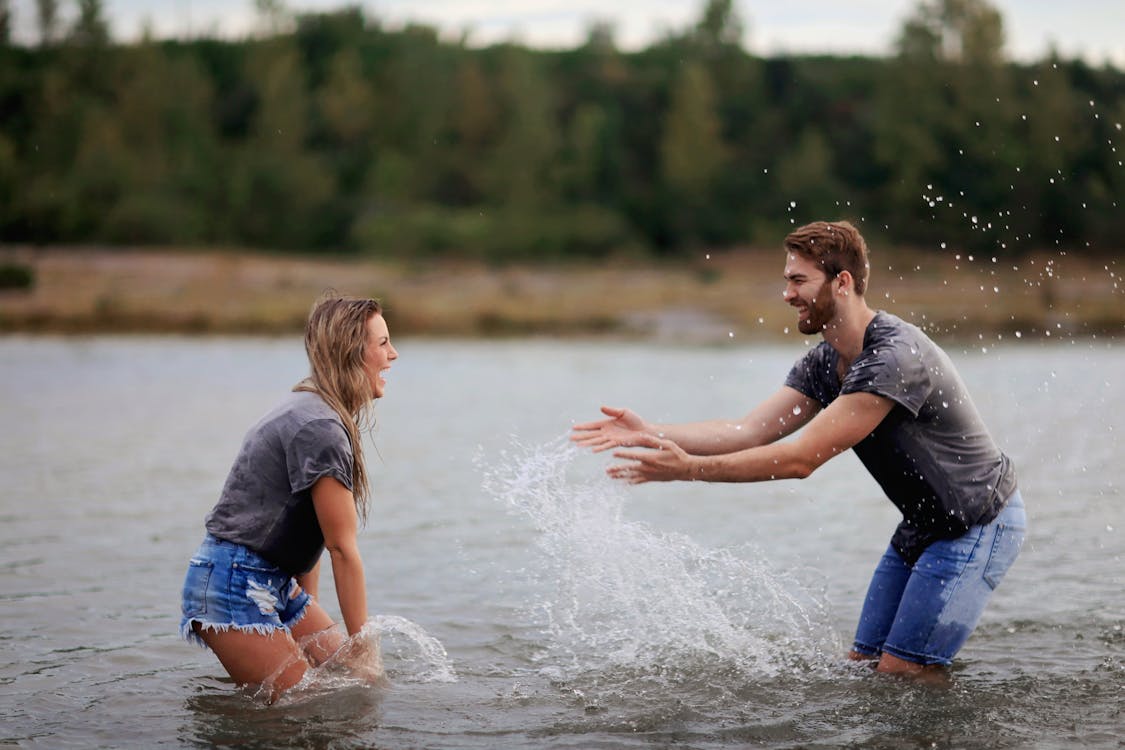 Feelings of true love give guys a sense of freedom to be themselves, he feels deep down that he's understood, accepted and admired for who he is without judgment.