15 Reasons Why Everyone Should Experience Bangkok Nightlife
Even if you are not a nightlife person, you will not regret!
Bangkok, the Land of Smiles
A bustling metropolis that never goes to sleep, Bangkok is one of the most visited cities in the world with roughly 16 million tourists every year. The capital city of Thailand has everything to offer and more, from friendly locals to unbeatable street food to luxury hotels and restaurants, nightclubs, imposing temples, night markets, river cruises, and Ladyboy cabarets. The electric nightlife scene in Bangkok is one of the main reasons why so many people visit Thailand.

From sky-high cocktail bars with breathtaking views to basement night clubs and gender-defying theatrical shows, Bangkok is an experience of a lifetime. The city is everything you want it to be, especially at night. It doesn't matter what tickles your fancy, chances are you'll find it here, the city is as varied as it is unforgettable. The list of things to do in Bangkok is exhaustive but we have come up with some of the most exciting things you can do with your nights.
Bangkok at night: What is it famous for?
It's common knowledge that what pulls people to Bangkok is its nightlife, the city is famous for its liberal night scene with the legendary Khao San Road, home to some of the craziest parties and clubs in the world. Bangkok at night is well known for its adult-themed clubs, the red light district, Ladyboys, rooftop bars, and exquisite cuisine.

For those who don't consider themselves party animals and need a more chilled kind of fun or something family-oriented, you have the bustling night markets, the night malls, Jazz bars, romantic cruises, and the HD cinema theatres that Bangkok is famous for. In Bangkok, it doesn't matter who you are, where you're from or what you like this city has what it takes to make your nights memorable. This is why everyone should experience Bangkok nightlife at least once in their life:
15 Reasons Why Everyone should Experience Bangkok Nightlife
1.The Delicious Street Food
The heart of any culture's charm is in the food and this is something the Thais can bank on any day of the week. In Bangkok, the food is simply amazing, from the street food in the tiny alleyways to the chic Michelin Starred restaurants every meal is a revelation. You'll find some of the best food you've ever tasted in the most unusual places and at odd hours. At 3 am in the morning you'll find street food vendors selling their products as if it was midday. And even in the middle of the night, everything is cooked fresh in front of you from Som Tam (papaya salad) to Squid, Sushi, and Kebab. Bangkok is always ready to feed you so you can continue your nighttime activities fully stuffed.
2. Bangkok Night Markets
The night markets in these parts can be a real-life Alibaba's cave for those who like shopping. At Khao San Road, you can shop for a wide variety of things at very affordable prices especially if you know how to bargain. Some of the best deals in the city are done after dark, places like Patpong Night Market and Rot Fai Market are a shoppers paradise. There are also smaller local night markets that pop up around the city every day, these markets offer places to eat, cheap booze and all sorts of entertainment you can indulge in while shopping. And the best part is the prices are insanely affordable.
3. Bangkok Rooftop Bars
Fancy rooftop bars are one of the highlights of Bangkok, the city boasts a handful of them, these open-air spaces serve sublime cocktails over stunning views. No other city has as many rooftop bars as Bangkok, with a million sparkling lights shining across the skyline, there's no better place to sip cocktails under the night sky. One of the most hyped rooftop bars is the Vertigo at Banyan Tree Bangkok where you can soak up the city in a full 360° sweep as you lounge the night away. You can also Indulge in some of the world's finest exotic cocktails, wines, champagne and exquisite barbecued seafood at the Sky Bar rooftop. Bangkok rooftop bars are in most visitor's to-do-list.
4. Night Clubs
Night clubs in Bangkok are packed every day of the week, you get to dance with people from all over the globe. Every musical niche is represented here, from EDM to hip hop, Jazz, pop and everything else in between. It all depends on your personal preference after all Bangkok is considered the premier clubbing destination in Asia and one of the world's top partying destinations. With clubs like Onyx that have been ranked one of the best clubs in the world by acclaimed DJs.
5. Bangkok go-go bars
Places like Patpong, Nana Plaza, and Soi Cowboy have been called Bangkok's lust-driven dens of sin, just to give you an idea of what to expect. They have dozens of go-go bars around Bangkok offering pole dancing temptresses, exotic ladies and much more for adventurous types. From shiny, bright and lively places where everyone is welcome to dark pits you should avoid, Bangkok has it all. Go-go bars such as Bada-Bing GoGo Bar, Baccara, Tilac Bar are a good place to start for first-time goers. One thing is sure, after a few nights out in this city you'll have stories to tell for a lifetime.
6. Bangkok Ladyboy Shows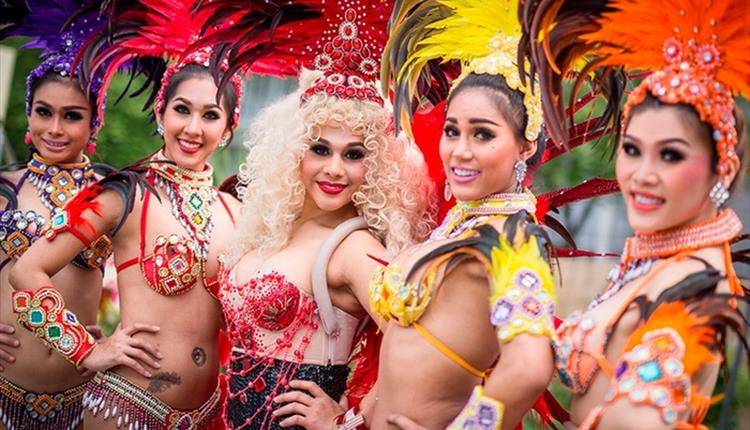 There's nothing like a Bangkok ladyboy show, the glitz, the glam, the flamboyant costumes, the music, and performances will blow your mind. Ladyboy shows are the talk of the town in Bangkok, the shows are packed with visitors, and are said to be the finest night-time entertainment in Bangkok. Hordes of tourists come to the shows every night. Some of the most popular Bangkok's Ladyboy cabarets are Calypso Cabaret, with colorful burlesque performances and Playhouse Cabaret a family-friendly ladyboy show, both are performances you won't want to miss if you're in Bangkok.
7. Kickboxing ( Muay Thai) Show
Muay Thai (kickboxing) Live shows are a major attraction in Bangkok since kickboxing is the national sport in Thailand, it's no surprise that such shows are seen as part of the cities cultural heritage. You get to see a combination of Muay Thai kickboxing and ancient theatrical moves for 90 minutes every day at a modern 600-seater theatre. The Asiatique is a good example of where to start if you want to get an exhilarating insight into this part of Thai culture.
8. Experience the Nighttime Mall
Feel like shopping in the middle of the night? No worries, Bangkok has just what you need, the Asiatique is a massive night shopping mall with over 1500 boutiques and 40 restaurants all under one roof. Located on the banks of the renowned Chao Phraya river, the Asiatique has a wide range of fashionable stores with both inexpensive and high-end shopping options. It also houses Southeast Asia's largest aquarium, a huge multiplex cinema. Even brands like Ferrari and Lamborghini have showrooms here.
9. The Friendly Locals
This is the definition of happy people, they're very helpful, extremely polite and always smiling, hence the name ''Land of Smiles''. They are used to foreigners given how many visits every year and are always willing to help you out even if you don't speak Thai. In Bangkok it's very easy to make friends, be it locals or fellow travelers like yourself, everyone you meet is in a good mood. Shop owners will welcome you with a warm smile and strangers will greet you like friends.
10. Night Cruises
Experience Bangkok cuisine aboard a luxury cruiser with a live band playing soft music or a teakwood rice barge, admire the bustling river life while enjoying a meal, the sights, sounds, and sensations along the riverbanks are spellbinding at night. You get a spectacular view of the sparkling temples, shiny night lights and experience the Chao Phraya River flowing through Bangkok and all of the little canals that feed off of it. On a boat, you get to see thousands of fireflies, high rise condominiums and fancy hotels in one part and small huts, wooden shacks, majestic temples and old churches on the other side all in a breathtaking contrast of traditional and modern Bangkok. After a night cruise on this famous river, you'll understand why Bangkok is referred to as the 'Venice of the East'.
11. Live Jazz Bars

source: lifstyleasia.com
Bangkok's cool and classy jazz bars are an ideal way to finish your night in style, listen to live music with the crème de la crème of Bangkok society. These bars have great local and international musicians lined up every night. If your idea of fun is much more laid back and cool you'll be right at home at any of the city's classy jazz bars.
12. The Convenience
Bangkok is an easy place to live in, everything is within reach even at night, you never have to wait for a taxi, you can move around in tuk-tuks, motorbikes, BTS Skytrain, and underground MRT. Pharmacies are open at 2 am, restaurants and street vendors sell even at 3 am. You could wake up with a shopping itch at 4 am and find satisfaction in Bangkok. You can also order food at 1 am and it will be delivered to your doorstep, this city never sleeps.
13. Cultural Shows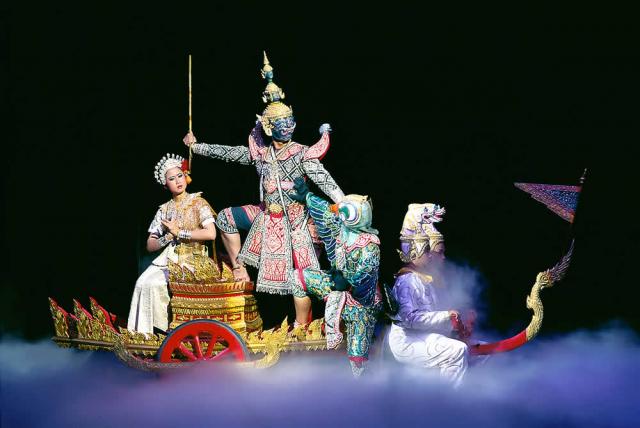 Cultural shows in Bangkok are a sight to behold, there are famous puppet shows in which the puppeteers are as much the attraction as the puppets, the Siam Niramit packs an 80-minute show full of splendor that describes how karma binds the Thai people, and the crossroads where civilizations meet. You're guaranteed a night of wonder and splendor in one of these shows. The cultural shows are single-handedly enough reason to visit the Land of Smiles.
14. Have a Thai Massage
A traditional Thai massage parlor is an experience that will relax and invigorate you in ways you never imagined. The Bangkok night scene is full of such parlors in night markets and street corners. This form of massage is semi-painful and has great health benefits, it involves an hour of pulling, stretching and pushing your muscles to limits you never thought possible. After a good Thai massage, you'll sleep like a baby and wake up feeling rejuvenated, where else in the world can you experience a traditional Thai massage at an affordable price?
15. Watch a movie
Going to the movie theatre may be the last thing you want to do when you find yourself all the way in Thailand but cinemas in Bangkok are nothing like in the west. Everything here is over the top, movies are projected in 4-D, you get to feel the movie with smells, winds, and other elements that make the whole experience unique. Theatres have reclining seats with pillows, blankets and everything you need to make every movie epic.
Is it Safe at Night for Girls?     
Bangkok is a relatively safe city for men and women alike but like in any other metropolis, rules of security apply. Most party streets are packed with people at night, locals and foreigners alike, which generally makes them safe. But there are dark streets and alleyways any reasonable person has no business in, you could easily be mugged or harassed if you isolate yourself.

Night clubs, bars, malls, go-go bars, and restaurants are safe at night for girls, they are mostly found in bustling areas of the city like Khao San road. With the use of basic common sense, there's no reason why you shouldn't be fine in the streets of Bangkok at night.
Related Article: Top 8 Travel Places To Hang out With Friends in 2019

Try these fun new places to hang out with friends in the new year
Summary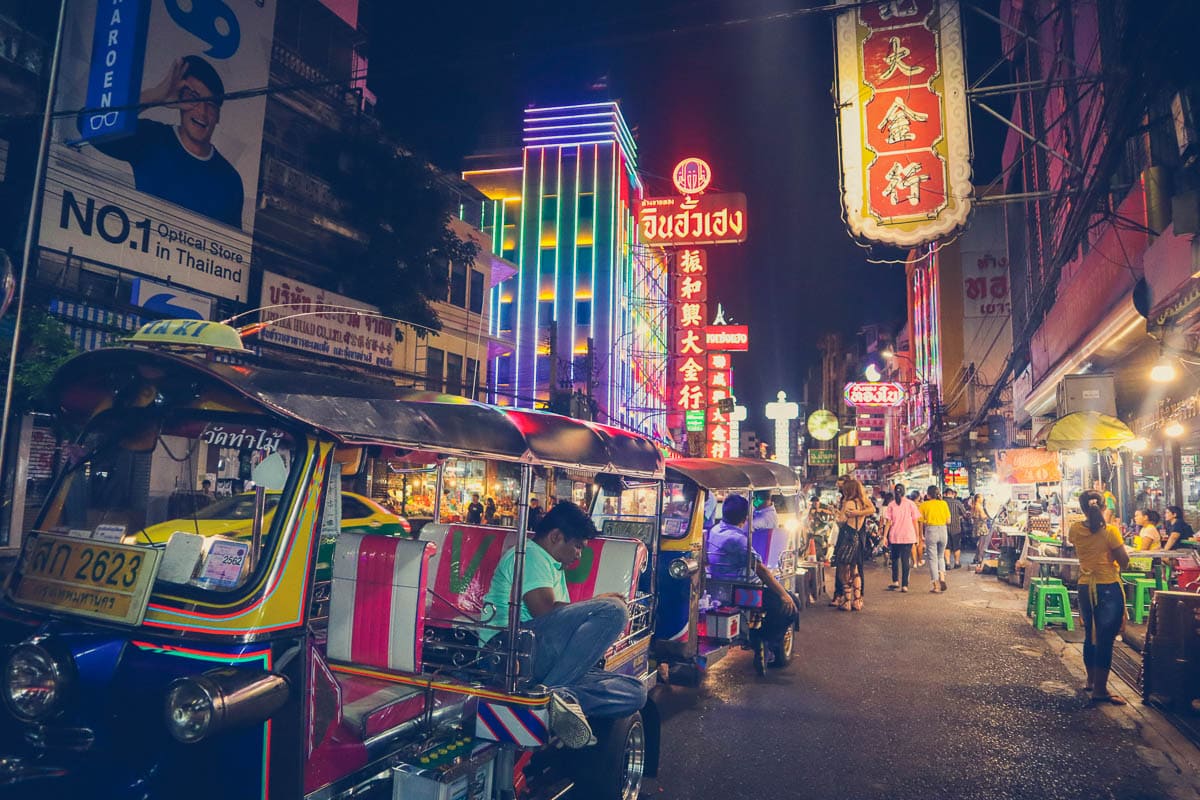 Whether you're a newbie traveler or a veteran backpacker, Bangkok has something to keep you entertained at night. You'll never be bored or disappointed, it has something memorable for everyone no matter what floats your boat. If these reasons are not enough for you to experience Bangkok nightlife, then what is?