Top 8 inflatable Infant Pools for Some Summer Splashing Fun
The best 8 inflatable infant pools for babies and small kids
Summer days can be hot and miserable. This can pose a problem if you want to be able to take your infant or toddler outside and be able to enjoy it. An inflatable pool is a great option to have when you are looking for an outdoor activity. There are so many different ones to choose from but they all have the same idea; to be able to get you and your child outside on a beautiful summer day.

They require very little space, either inflated or in storage and they are easy to inflate and fill with water. Depending on the child's age you can fill up the pool with as much water as needed. It is a great way to get your child outdoors and keep them cool and comfortable. They are versatile too. During the winter when they can't go outside and use it? Bring it inside and use it as a ball pit. Every kid loves a ball pit. That will keep your little one even more entertained. So what are you waiting for? Grab your sunscreen, your hat and your pump and lets go swimming.

**But always remember to never leave a child unattended in or around a pool.**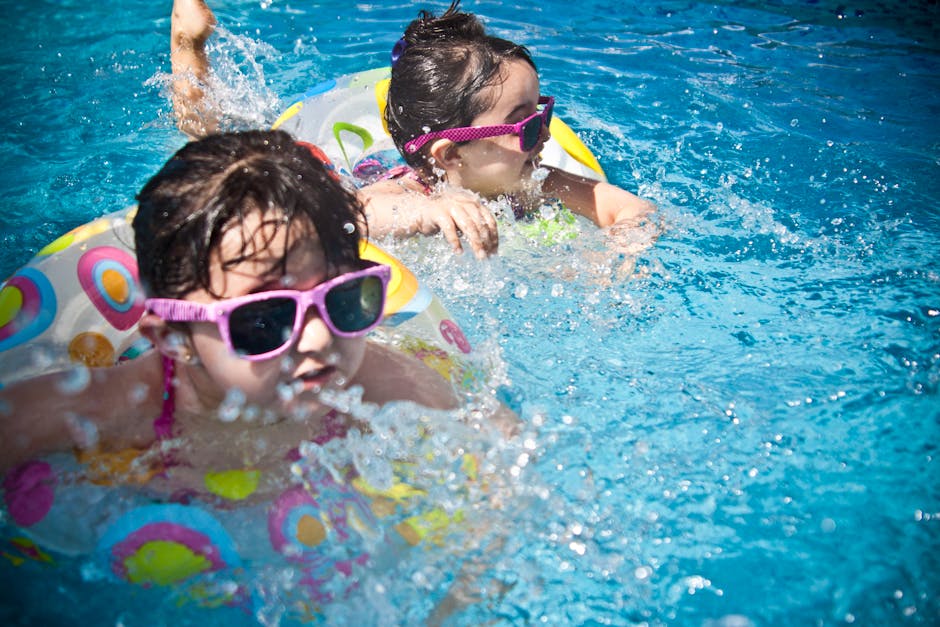 Best Infant Pools with Slide and Without Slides
1. Intex Kiddie Pool
Intex is one of the best companies when it comes to producing inflatable products, and it shows why with this pool. It's very easy to set up and only takes a few minutes to fill. The Intex Kiddie Pool measures 58" x 13" when inflated, can hold up to 79 gallons of water which means you can get in on the fun as well. The bottom of the pool inflates as well, giving your kids a soft cushion bottom, to protect them from the hard floor. The pool is constructed with durable vinyl making it a great option to withstand the summer sun and happy children. The 12" walls are made up of three colorful rings that will make this pool a colorful addition to your yard. This pool is suitable for all ages depending on the water level in the pool.
2. Intex Smiley Giraffe Inflatable Baby Pool
Who doesn't love a giraffe? The Smiley Giraffe Baby Pool is another quality product from Intex, this pool measures 44"x36"x28.5" and can hold up to 14 gallons of water. The pool comes with two inflatable rings and two noisemakers that will help keep your child entertained in between all that splashing. A repair patch is included as well. This pool is suitable for children ages 1-3.
3. Intex Rainbow Ring Inflatable Play Center
Now we are talking. A pool that has everything to keep your kids entertained for hours on end, and it is very easy to set up. Your kids can take a ride down the slide into the wading area or enjoy the ring toss game ( rings are included). The sprayer attaches to the hose helping keep your kids cool. The pool measures 15.98"x 15.98"x 5.51" and can hold up to 77 gallons of water. There is enough room for several kids to enjoy. Suitable for ages 2-7 years old.
4. Intex Lazy Fish Inflatable Pool
This pool is a great option due to the enclosed top that will provide shade for your little one. When inflated it will reach 49" x 43"x 28" and hold up to 14 gallons of water. The Lazy Fish will provide a small comfortable experience for your little one. Suitable for ages 1-3 years.
5. Urfun Rainbow Splash Baby Pool
Perfect for infants as this is more like a splash pad then a pool. I put it on the list because they can still get wet, right? Perfect for children ages 12- 36 months, your little one can sit under the canopy and splash away. When inflated it measure 30"x 44" and holds very little water. So if your child is an active one this may not be a great choice. But it is the perfect option if your child just wants to sit and splash.
6. Ocean Inflatable Play Center
What else can be said that isn't evident in the picture. This pool is awesome. The Ocean Inflatable Play Center is a combination of multiple pools, a small one and a wading pool, with a slide. When they get tired of using the slide, (yeah right!) there is a ring toss included. When inflated it measures 100"x 77" x 31". Inflatable whale and turtle are included as well. This pool is perfect for ages 2 years and up but can be enjoyed by the whole family.
7. Summer Waves Inflatable Under the Sea Kiddie Pool
This pool will bring the ocean to your backyard. The Under the Sea Swimming Pool has a dolphin that your child can use as a slide, and watch out for the crab as it sprays water at your child keeping them cool on a hot summer day. There is also a ring toss included that will make pool time that much more fun. The pool measures 77"x 77"x 34" when inflated. Suitable for ages 2-5.
8. Dinosaur Play Center Inflatable Pool
Indulge in your child's love of dinosaurs with this dinosaur themed oasis, equipped with a slide. The Dinosaur Play Center holds up to 57 gallons of water and has a landing mat for extra padding. Very nice feature to combat the hard ground. Water flows through the palm tree and sprays water into the pool and can be controlled with a control valve. The pool comes with 6 balls for additional fun and games. This pool is a nice size option so make sure you have plenty of room to use. It measures 43" high by 6.25ft wide and 8.25 ft long. Comes with a repair patch as well.
Inflatable Infant Pool Floats
Inflatable floats are a great way for your infant or toddler to be able to experience the pool or beach. Most floats will allow them to kick freely all while sitting comfortably. Make sure that they have a canopy to protect them from the sun.
1. SwimWays Baby Swing Float
This durable float allows your baby to kick freely in the water all while secured in a mesh chair. Comes with a removable canopy that protects your child from the sun. Your baby will have fun engaging with the removable octopus arms that hold a squeaker, stacking rings, rattle, and a soft touch Star. Folds up nice and neatly into a storage bag for easy storage and mobility. Features dual air chambers and a patented inner spring for greater stability in the water. Perfect for children ages 9-24 months old.
2. SwimWays Baby Spring Float Sun Canopy
Another quality product for SwimWays. This fabric covered inflated float has a removable sun canopy and features safety valves, multiple air chambers and a patented inner spring which will give your child better stability in the water. A soft mesh seat and leg holes allow your child to kick underwater freely. When done fold it up and place back into a storage bag. This raft is recommended for ages 9-24 months. Multiple colors to choose from.
Infant Pool Toys
Don't want to have to worry about inflating a raft, grab a pool toy that your infant would have a fun time playing with.
1. Inflatable Beach Ball
Most kids love balls so a beach ball was a no-brainer. Easy to inflate and lots of fun, a beach ball will keep your child or children entertained for hours.
2. Fishing Floating Squirts Toy and Water Scoop
What makes this a great option is not only can it be used in the pool but you can bring it inside and be used at bath time. This toy comes equipped with a fishing rod, net, 5 different toys, and a storage bag. Watch your child use the fishing rod and net to try and catch the toys as they float by helping them work to define their fine motor skills. The Starfish Puffer, and the Crab squirt water as well. Made from a highly durable plastic these toys should last a long time. Perfect for children 18 months and up.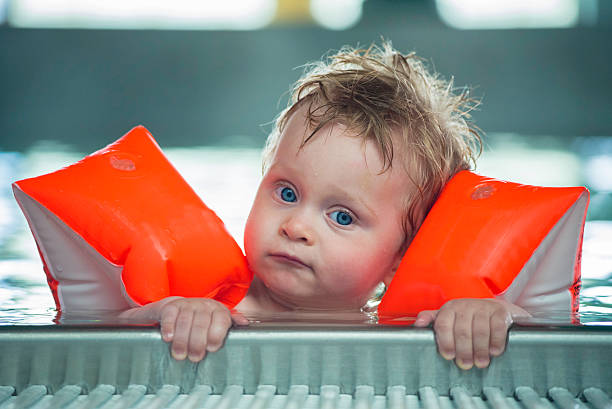 Safety with Infant Pools
Part of owning an inflatable pool is making sure that your infant or toddler is safe when using them.

ALWAYS MAKE SURE CHILDREN ARE NOT LEFT UNATTENDED.
Make sure pools are properly inflated
Empty pool when not in use
Clean them regularly to kill any bacteria or mold growth
Now, equipped with your inflatable pool and floats, go out and have some fun!!!!