5 Best Children's Library to Bring Your Kids to
Bring your kids to the best children library in the USA for some fun
As a child, when it came to imagination, you could go anywhere at any time and usually, a good book was a great place to start. Between those two covers and what's written on the pages that lay in between, lies a world that you could not imagine. The key is how do we get there? How do we get a child to understand that reading isn't a chore or a punishment, but could be an escape, an adventure, a genuinely good time?
The answer is - Make it fun. Make it exciting. Those are some of the ways that we can instill that love for learning and reading, and it all starts when they are young, at the library. As a child, I looked forward to my weekly library trips with my grandmother. Couldn't wait until I was old enough to run up the stairs to the second floor, where the books were more geared towards older children. I also enjoyed the programs that were held at my library. Reading groups, visiting authors, and reading challenges were just a small part of the activities my library offered. And guess what? It made it fun.
In this article, we will be listing some libraries that get it. These libraries bring books to life. They make them fun, through story time events and rooms decorated as if the child is in the book, it allows the child to be free from distractions and obstacles so they can really get a true feel of what the book is about.
1. Brentwood Library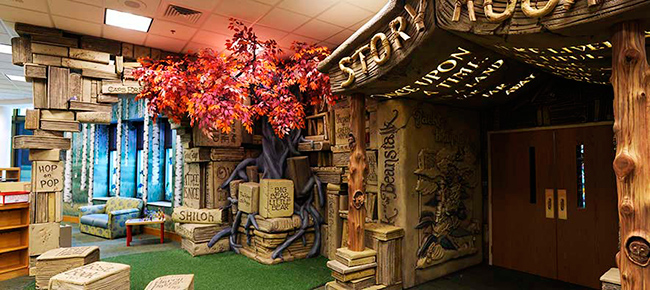 Imagine as a child walking into a room, but the entrance is carved to look like a tree. A storybook tree. You are then greeted by a talking owl, and then you are surrounded by thousands of books that you can choose from. This is just the beginning of the wonderful journey that your child will embark on when you visit the Brentwood Library in Brentwood, TN. Unlimited access is available to a wide range of books and magazines. Then after making their selection, they can then take a seat and read under the light that shines through the stained glass windows.
Even though school is out, The Brentwood Library is especially busy during those warm summer months. Its popular summer reading programs keep children's minds at work. There are also programs that feature magicians, puppeteers, musicians and even live animals. The Brentwood Library offers a 30 minute story time session for preschoolers every Saturday. The library also offers after-school programs for students. These programs range from help with homework to arts and craft sessions, games, and snacks
They offer programs and events for all groups of children. From the story sessions for preschoolers to lego and chess clubs for middle schoolers and a Teen Advisory Board for teens, The Brentwood Library makes it fun for children of all ages.
2. Laramie County Library
Who expects a child to sit still and stay quiet, especially in a library? The Laramie County Library located in Laramie, Wyoming came up with the perfect solution. A playground. The Laramie County Library offers a play area that is perfect for those children who have a difficult time sitting still, which means every child. With the "Bookmobile", " The Group Book Return" and the oversized chess set, these play areas combine reading with fun. Your child will also become well acquainted with two friendly mountain lions named Elsie and Eddie. Elsie and Eddie are located on the second floor and serve as the library mascots for early literacy. They also offer programs for homeschoolers and high school students as well.
3. ImaginOn: The Joe and Joan Martin Center
The ImaginON: Joe and Joan Martin Center can be found in Charlotte, North Carolina. Centered in the heart of the cultural arts district, this library is a result of the joint efforts of the Charlotte Mecklenburg Library and the Children's Theatre of Charlotte. It features over 102,000 square feet of reading and artistic bliss. Over 300,000 annual visitors who enter the center are witness to two state-of-the-art theatres, interactive exhibit space, and two classrooms. The library is perfect for all ages. The Joe and Joan Martin Center features not only a teen-only library but also library space that is for children 11-years and younger as well. This library is the perfect blend for those that not only have a love for reading, but for the arts as well.
4. Vancouver Community Library
A library that allows talking above hushed tones? A library where kids can run around and, well be a kid? Is there such a thing? Take a quick ride over the Columbia River in Vancouver, Washington, and visit The Vancouver Community Library. This library offers just that, a floor dedicated to children under 5. On this floor kids can run around and act as you know; kids. Parents can attend the scheduled story times that are available for the wee little ones. Or can run around and interact with the different play areas, which includes a submarine, all without disturbing other library visitors. All exhibits are hands-on which is great because it keeps a child's mind and hands occupied all in a safe and secure learning environment.

There are also areas available for older children and siblings (ages 6-11) if they just want to sit back and read a book or finish up their homework. All these areas are separate but still close enough to keep a watchful eye. Game clubs and movie nights are just some of the other activities that are offered to keep the older kids interested. Don't forget to visit Thatcher's Coffee to get yourself something to enjoy as you sit back and watch your children have fun learning.
5. Children's Library Discovery Center
Located in Queens, New York, The Children's Library Discovery Center (CLDC) was an expansion project completed in 2011. It is attached to the main library and features over 14,000 square feet of learning fun. The CLDC has learning labs, hands-on science, technology, and math exhibits, in addition to thousands of books. As you enter the center you will "step on" one of the more popular attractions in the center. It is an interactive floor map of the City of Queens. Step on JFK Airport to hear the boom a jet engine, or the crack of a bat hitting a ball when you step on Citi Field; this map is sure to entertain.

Stay on the first floor and head on over to the section dedicated to pre-schoolers where you and your toddler can pick out a book and either snuggle up against the aquarium along the wall or sit on one of the many flower shaped cushions that are available. Numerous fiction books are there for the choosing. Want to discover a bug under a microscope? A puzzle? There are several interactive science plazas, where children of all ages can learn and challenge themselves, all located on the first floor.
There are a number of different storybook readings that you can choose from. Whether your child wants to sit back and enjoy a good fairy tale or listen to music. Or if they are ready to conquer potty training, there are different options available for both toddler and parents to enjoy. The second floor is mostly for older children who are looking for non-fiction titles and more age-appropriate material, 0r just a quiet place to read and do homework. Computers are available on the second floor as well.
Summary
A child is full of imagination. What makes these libraries fun is just that; they are fun. Kids can have fun and learn at the same time which makes it enjoyable for you as well. And just because you may be quite a ways from any of these awesome libraries, you may have a library close enough to visit. So take some time and go out and enjoy the experience that your neighborhood library has to offer. You never know what may be in store for you and your child.