Maternity Fashion: How Best to Dress the Bump Fashionably
A Maternity Fashion Guide for Mommies on Dressing the Bump
The Do's and Don'ts of Dressing the Bump
It's important to keep comfort in mind when dressing during pregnancy. You don't want to wear anything too tight or restrictive for both you and your baby bump. However, while it's ideal to stay comfortable you can still wear pretty prints, colors and different styles, nobody says once you're pregnant you will have to ditch all fancy clothes. Here are some do's and don'ts of what to wear while pregnant.
Five Maternity Fashion Do's
1. Wraparound dresses
Wraparound dresses are ideal for maternity fashion because of their versatility. They come in several colors, styles and patterns. You can always dress them or up or down while maintaining comfort and style. Team them up with a tank, jackets or sweaters depending on the season. For shoes, you can throw on cute sneakers or fancy flats to really add a little spark to your outfit.
2. Elastic Waist Pants
Elastic waisted pants just may be the next best thing to sliced bread while pregnant. They are designed to accommodate your bump as it grows, giving you plenty of time, and room, to style them how you want. You can find these pants in a variety of fabrics including denim, as well as various colors and styles.
This type of pant is pretty special since it allows you to move freely, with no restrictions. You can pair them with anything you'd like giving you even more freedom to remain fabulous while rocking your baby bump.
3. Maxi Dresses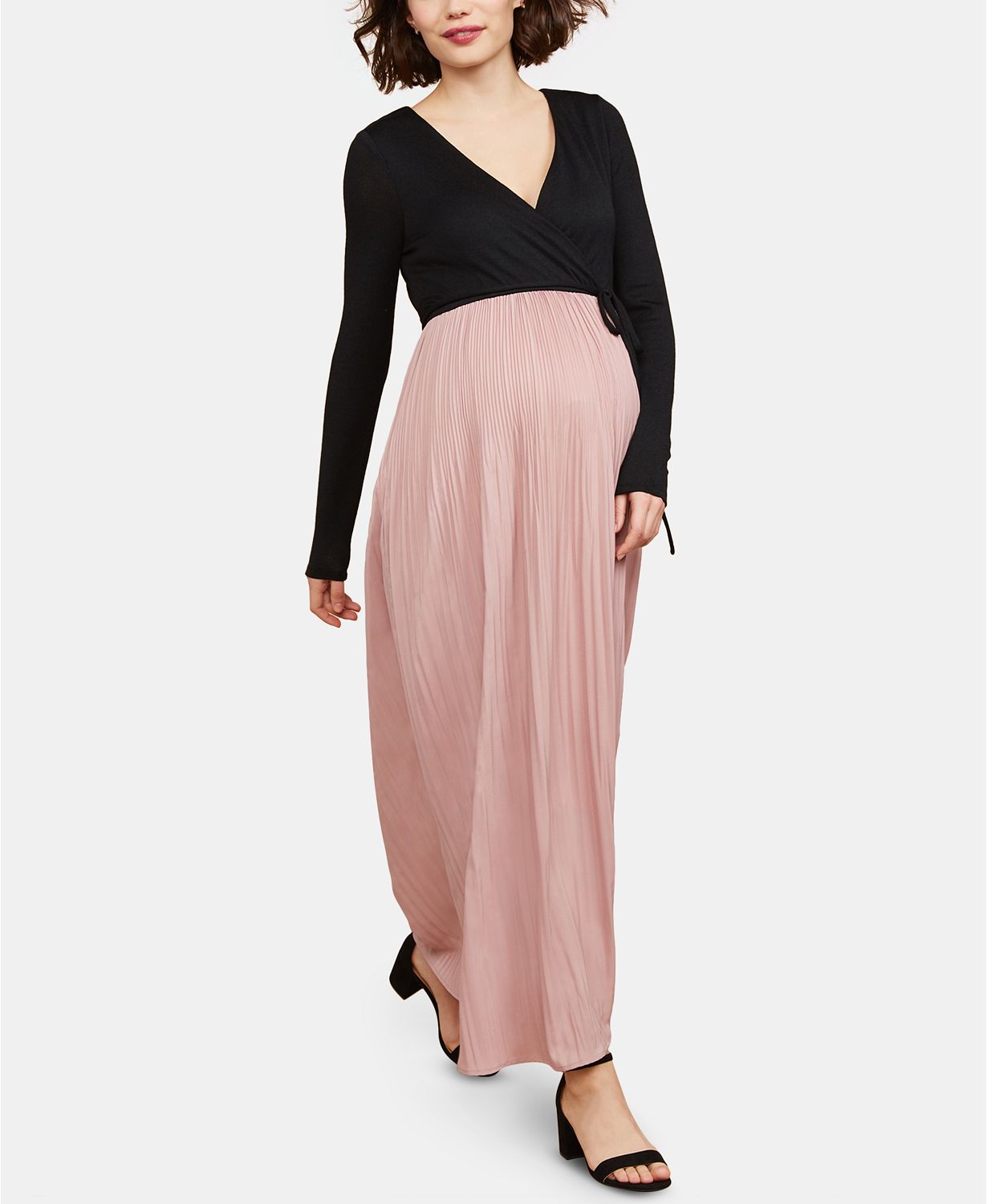 Let's be honest, we all love a good maxi dress which makes them an automatic maternity favorite during that special time. They are adorable, to say the least, and add the perfect amount of flair during any season. Maxi dresses are often designed from stretchy fabrics and are spacious yet flowy.

Dressing them up or down is never hard especially with the array of patterns, colors and styles you can find them.
You won't have to worry about feeling suffocated in a maxi dress with the added benefit of looking absolutely stunning. Pair them with cute sneakers, flats, sandals or boots during the warm and cool seasons to create a stylish look while being confidently comfortable.
4. Maternity Tunics
Maternity tunics are great because they are lightweight, seasonal and provide lots of room for your growing baby bump. They come in a variety of colors, patterns, and styles including nursing tunics.
They are often versatile and are ideal for all style types. They provide ample space for movement despite the fabric and can be paired with anything, shoes tops and jackets included. Whether you want sassy and bold or snug or fitting and formal, you can have it all in a maternity tunic.
5. Maternity Intimates
We can't forget about what to wear under your clothes, as these too are vital for comfort. It may be best to invest in special maternity bras also known as nursing bras. Nursing bras are essential as our breasts typically become much bigger during pregnancy due to hormonal changes a well as development of breast milk.
This can cause serious discomfort or pain, which is why nursing bras are suitable during this time period. Designed for convenience nursing bras come in a plethora of styles and are usually wireless. Some come with detachable cups for nursing while others slip on and off with ease. Collectively, nursing bras are also must-haves when wanting to go about your day uninterrupted by discomfort or leakage.
Related Article: 10 cute pregnancy announcements by celebrities

Let's start with Kate Hudson, she just had a baby girl this past October with boyfriend Dany Fujikawa.
Five Fashion Don'ts
1. Don't Become Fashion Risky
It's much easier to stick to the style that you had before your pregnancy. Going from your style to a completely different one (for example bold crazy patterns and colors) can look very extreme and unflattering to your bump. Simply transitioning your current style is best as it allows you to continue on in your natural style.
2. Don't Try to Wear Regular Clothes
Taking the time to purchase maternity wear is beneficial in several ways but mainly to help you through your pregnancy stylishly, smoothly and comfortably. It's best to invest in maternity wear that will last the duration instead of upsizing clothes that aren't created for pregnancy, and may leave you potentially uncomfortable.
3. Avoid Stiff Fabrics
Stiff fabrics include any type of fabrics that aren't very breathable, airy or roomy. The fabrics that restrict movement and don't have way are not particularly ideal. Stick with stretchy, soft and expandable fabrics instead.
4. Don't Wear Super Tight Pieces
There are only a few styles of clothes that allow you to look beautiful and elegant despite being skin tight (dresses, leggings, etc.) That, however, is few far and in between, therefore, skip on the crazy tight clothes because loose and graceful is simply a much better look during this time.
5. Don't Wear Uneven Pieces
You want to stick to pieces that will evenly distribute across your shape. Wearing a dress that snuggly clings on to some areas and is super loose in others, can lead to an unintentional styling mistake. So, ensure you choose clothes that suit your shape and your bump, and that will accentuate all your curves the right way.
Maternity Clothes for Plus Size Moms
No matter the size, every woman has the right to feel beautiful before, during and after their pregnancy. It's also important to be comfortable throughout this time while remaining confident and feeling your best. Here are some tips on styling maternity clothes for plus size moms.
1. Skirts that Meet Your Knee
Choosing skirts that meet right at your knee can work lengthening wonders. It's the perfect point as skirts that are too short expose to much,while longer skirts takeaway length instead giving you a shorter appearance. Wearing skirts that meet at your knee provide a graceful and stylish appearance.
2. Soft and Flowy is Best
Soft and flowing fabric is not only elegant but it's comfy and simply much better. Tight fabrics during pregnancy aren't necessarily ideal since they tend to give off a bulky appearance and don't give way. Rather, loose fabrics fall gracefully giving a softer look that complements any beautiful shape. Fabrics such as silk, stretchy cottons like cardigans or blended cotton and silk tops, are all ideal for loose yet stylish maternity pieces no matter your size.
3. Prints will Set You Free
Patterns are universal and not to mention, stunning. So, pregnant or not, size 6 or 16, it doesn't matter. Prints can be an addition to each and every wardrobe because you reserve the right to feel fabulous, especially during a special time like pregnancy. However, if you're a curvy beauty who isn't into prints, you can substitute with a simple pop of color instead.
A bright colored accessory such as a handbag or even a camisole can add the perfect amount of color to your outfit. It's important to note not to go too strong with prints if you do decide to rock them. Prints that are too big or small, can take away from a great look rather than complement it.
4. Highlight Areas of Length
Drawing focus to certain areas can help give a lengthier look to your shape. For example, v-neck shirts can add length to the shoulders, neck and your face while giving a slightly elongated effect to the rest of your body. Clothes that wrap such as dresses and shirts can provide the same effect with the added benefit of adjusting as you grow.
5. Don't Forget to Accessorize
Lengthy necklaces can provide a subtle lengthening effect as they play on vertical lengths. By adding a few layered necklaces and scarves you can give your shape a taller more extended look. Not to mention, accessories are the cherry on top of any fabulous outfit!
Maternity Clothes for the Winter
Choosing the proper maternity clothes during the cold seasons are vital not only for you but your baby as well. While staying warm is essential thankfully you can do it in style. Here are the best (and super stylish) maternity clothes you can wear during the winter.
1. Slip-on Boots
Honestly, these are amazing in general but they especially perfect for your wardrobe if you're expecting. Despite keeping your feet toasty this style of boot makes getting dressed a breeze as you won't have to try to make it past your growing tummy. Simply slip them on and be on your way. You can pair them with a cute cozy sweater and jeans, or leggings and a long sleeved top. They are versatile and come in a number of adorable styles.
2. Cardigans
As we all know layering during the winter helps keep you warm, and what better than a cardigan to style your bump and keep it cozy. Cardigans add an extra pop to any piece whether dresses, jeans,a plain shirt and any just about any shoe. You can play around with patterns and textures as well as fun color combos, all while keeping snug and cozy.
3. Maternity Jeggings
Jeggings are literally are the best and an amazing alternative to jeans while pregnant. They are the definition of cute and casual comfort, that give you plenty of room to stay warm while strutting your stuff in style during the cold seasons.


4. Low Heeled Booties
Comfortable feet during pregnancy is an absolute necessity, and low heeled booties are a wonderfully cute solution. They are the perfect height and ar also great since most of the time you can continue to rock them even after welcoming your little one.
5. Nursing Sweater
Nursing sweaters are a trendy way to breastfeed while on the go. Like regular sweaters, they come in a variety of colors and styles. They are the ultimate snuggly and elegant pieces for any mom-to-be.
2018 Best Maternity Fashion as styled by these celebrity moms
Eva Longoria
In 2018, Eva Longoria showed us all how to style a baby bump in a number of adorable, chic and elegant looks.
Source: @evalongoria / Instagram
Eva glows in a beautiful off-the-shoulder white maternity maxi dress. This looks is simple yet breathtaking and can be paired with a variety of accessories. This stunning look proves you can be elegantly glamorous and comfortable while expecting.
Source: @evalongoria / Instagram
The definition of sophisticated comfort, this satin combo is perfect for any trimester. Eva uses the layering technique with a satin blush pink dress and cardigan to match.
Source: @evalongoria / Instagram
Black is a bold sophisticated color you can never go wrong with. Eva teams a long sleeve black shirt with a dark maxi skirt. This stylish outfit is perfect for any season when wanting to achieve an effortlessly casual cute sophisticate look.
Kate Hudson
Source: @katehudson / Instagram
A fabulous example of not being afraid of patterns Kate Hudson shows us how to rock pregnancy prints. An elongated printed dress is always welcome, ideal for a subtle yet boldly adorable look.
Source: @katehudson / Instagram
Who says you have to stay away from laces and themes when you're pregnant? Here's Kate Hudson looking gorgeous in this lace ensemble, that not only showed off her curves, it actually accentuates it!
Source: @katehudson / Instagram
Spaghetti tops can be your go-tos as they are for Kate Hudson, who is never afraid to show off her curves. They are the ultimate roomy, cute and comfort looks while rocking a baby bump.
Conclusion
Every woman deserves to feel beautiful every single day and pregnancy is no exception. It doesn't matter your size or the changes your body goes through for the time, you can still look and feel your absolute best with your baby bump.
Related Article: A Recap on Celebrities and Their Baby Carrier Styles

It is very normal for us to follow what is trending in the life of celebrities.